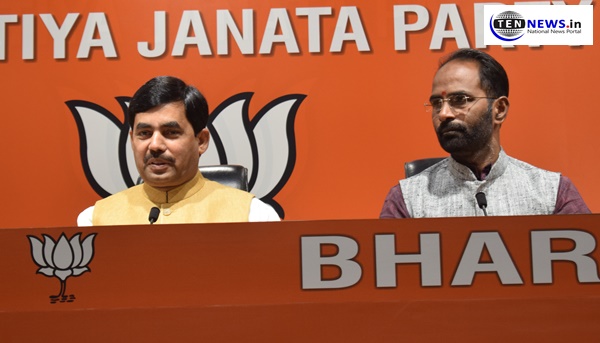 Shahnawaz Hussain hits out on Anti BJP leaders, says "the people will show how much they love PM Modi*
TALIB KHAN/ JITENDER PAL- TEN NEWS
New Delhi, (13/4/2019): Today, BJP leader Shahnawaz Hussain held a press conference in BJP headquarter in New Delhi. During the conference he slams Congress leaders and said, Congress only creates confusion in the minds of the people and hide behind them.
Speaking at the conference Shahnawaz Hussain said, "Congress people knows how to sing, but they don't know what to do for their future", they have an old habit of creating confusion in the minds of people and make them fool, they are making fools of us from a long time. This time they are again mocking and creating confusion about Smriti Irani's nomination paper".
"The Election Commission will see to it what is right and what is wrong, they only are making fools of everybody", he added.
The action came after Congress spokesperson Priyanka Chaturvedi gave Smriti Irani a tagline "Kyuki mantri bhi kabhi graduate thi" against Irani's affidavit of only high school pass out in her nomination papers for her candidature from Amethi. Which were contradicting to what she submitted earlier which shows that she is a graduate.
Shahnawaz Hussain also lashes out on Azam Khan's comment on PM Modi, over the tweet of Pak PM Imran Khan in which he wishes PM Modi will become PM again, referring to which Shahnawaz said, "this is not the way to talk, Azam Khan should know how to talk, the BJP will not give any answer, the people will give answer in these elections. The result will show how much the people of this country loves PM Modi".