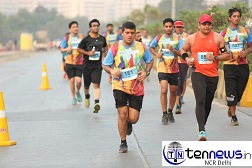 Shander Singh excels in IL&FS 'I Run for Fun'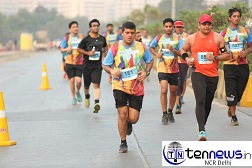 Shander Singh excels in  IL&FS 'I Run for Fun'
 Mumbai, Feb 21:  Shander Singh won the men's open category crown in the IL&FS 'I Run for Fun' event held at the Bandra-Kurla Complex here this morning
The 25-year-old , Shander , with his graceful strides,  set a brisk  pace from the start before covering the 10km distance  in 32:41:80.  Devender Singh  (33:01:80) and Vicky Raut  (34:06:10) followed  Shander home in that order.
Neelam Rajput won the women's open title clocking 38:41:20 with Josefin Stolint  (40:51:00) and Arti Survase (42:06:70) finishing second and third respectively.
Powered by Yes Bank, 'I Run for Fun' is aimed at helping increasingly desk-bound executives incorporate fitness into their daily routines.
First held in 2013, the initiative has steadily gained in popularity and over 5,000 running enthusiasts from across the financial services industry turned out to take part in the event and be a part of this unique initiative. The event, comprising races in two categories – 5 km and 10 km run was flagged off by Mr. Ramesh Bawa, Managing Director & CEO, IL&FS Financial Services at the IL&FS Financial Center at the Bandra-Kurla Complex.
A separate race for specially-abled children was also organized by IL&FS along with NGO ADAPT (Able Disable All People Together), formerly known as Spastic Society, that saw 15 children take part. The partnership with ADAPT is part of the company's CSR commitment and IL&FS has pledged to donate a part of the online receipts generated by the run to the NGO.