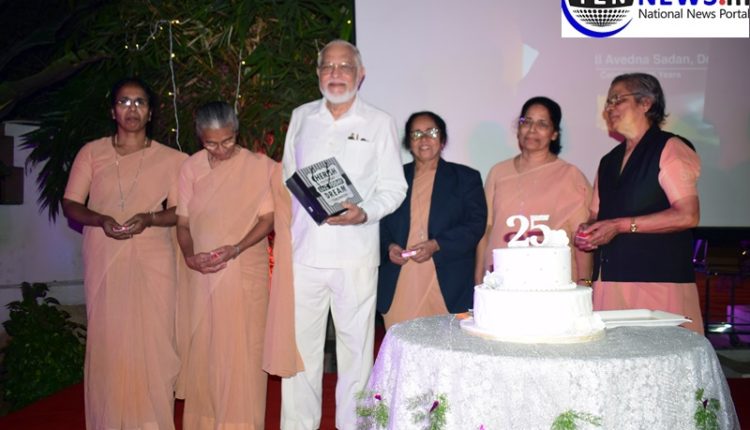 Shanti Avedna Sadan celebrates 25 years of its service
Saurabh Kumar (Photo-Video) Lokesh Goswami Tennews New Delhi :
New Delhi: Today Shanti Avedna Sadan celebrated 25 years of its service in Delhi and recalled their 25 year of journey. Anil Joseph Thomas Couto Archbishop of Delhi was the chief guest for the event and was welcomed by the managing trustee Dr. L.J. desouza.
The Shanti Avedna Sadan is India's first Hospice, an institution that takes care of the advanced terminally ill Cancer patients. It is neither a hospital nor a home, but is in fact both, offering the specialized care of a hospital together with the love of a home.
The Institution provides 24 Hour In-Patient Care, for all Advanced & Terminally ill Cancer Patients, irrespective of Community, Caste, or Creed. It has Over 33 Years experience in Hospice and Palliative Care. Intensive Care is given to relieve pain and all distressing symptoms to bring Peace in Body, Mind and Spirit.
Speaking at the event Dr. L.J de Souza recalled the initial days when former lieutenant governor P.K Dawe Inaugurated the Shanti Vedna Sadan. He said "The tree planted 33 years back has now grown into a beautiful canopy. But all this will not be possible without all the sisters, doctors and all the support staff. For now we have treated more than 5 thousand patients and 4 thousand this year itself.
The program proceeded with some dance performance by the Staff of the institution. A video was also played displaying how patients were taken care and get relif from sufferings.
At last chief guest speaking at the event said "we pray that there should be more Shanti Vedna Sadan in the world and I would like to thank you and may god bless everyone."
Aditya Ghildyal, a very renowned social worker who shares long term association with the institution said "The institution is doing a great job and I'm personally very happy with the kind of warmth and hospitality they treat their patients with. If there is a heaven, its here at Shanti Avedna Sadan."