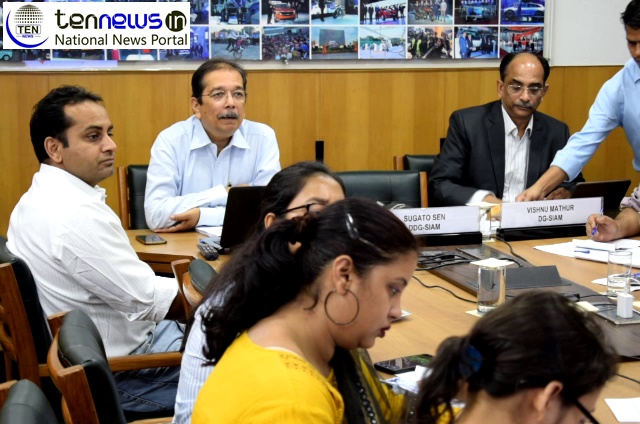 SIAM reveals sales growth report for 2018, Auto Industry continues with positive growth across segments
Ashish Kedia (Photo/Video By Lokesh Goswami Ten News )
Society for Indian Automobiles Manufacturers (SIAM) today released sales growth report for 2018.

SIAM Deputy Director General Sugato Sen and Director General Vishnu Mathur were present at the occasion.
Elaborating on the production statistics they informed that the industry has produced a total of 8, 064, 239 vehicles including passenger vehicles, commercial vehicles, three wheelers, two wheelers and quadricycle in April-June 2017 as against 6,919,414 in April-June 2017, registering a growth of 16.55 percent over the same period last year.
In terms of domestic sales the passenger vehicle segment registered a 19.91 % growth as compared to last year's statistics of same period.
The overall commercial vehicles segment registered a growth of 51.55 percent in April-June 2018 as compared to same period of last year.
Similarly three wheeler segment sales increased by 54.01 and two wheelers sales registered a growth of 15.92%.
The exports have also been very positive and there was a growth of 26.73%.
SIAM expects that this year's massive investment opportunities clubbed with a favourable environment will further boost the growth of automobile sector.