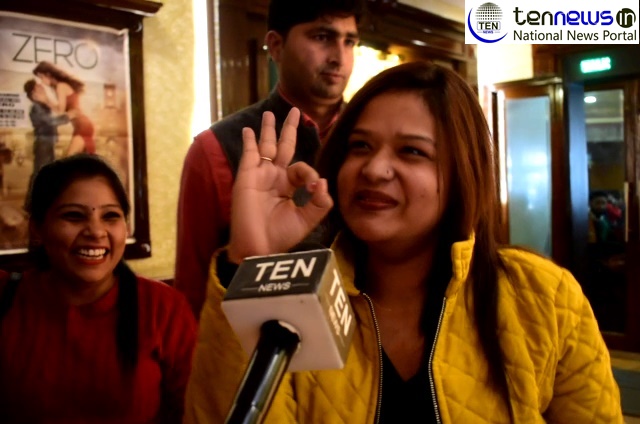 Simmba Movie Public Review: Delhiites gives a thumbs up to Rohit Shetty Comedic Comeback!
Vishal Malhotra (Photo/Video) By Lokesh Goswami Ten News Delhi :
New Delhi : Rohit Shetty, the man who love action to be the major part of any film he directs.
'Simmba', is his another production that released this Friday. It was hard for the audience to book tickets even a day before.

Simmba seems to be one of the best production happened this year as per the reviews of delhiites who witnessed the first show screened in the national capital.
Ajay Devgan who was the lead part in Rohit's previous series 'Singham', also had a guest appearance in the movie. His fans were all shouting as he had one of the best entry as a powerful policeman.
Ladies stepping out of the cinema halls were all shouting their love out for Ranveer Singh.
One of a girl speaking to Ten News said,
"This movie is all about drama, comedy, emotions and every aspect that a good movie should consist of.
A guy was when asked about his opinion regarding the earning of 'Simmba' said,
"This movie is gonna cross every limit that has been fixed to date in the Box Office of Hindi Cinema. I can bet that I myself will be watching this movie for another 3 to 4 times."
Even the old members who witnessed the show with their younger family members appreciated the storyline of Simmba.
Ranveer Singh is a an actor who get indulged in any character he is offered, was the lead gentleman in Rohit Shetty's biggest release of the year.
Rohit Shetty's films are known for being masala entertainers and so far, the audience has enjoyed the way he presents big action sequences with high drama. Shetty's style of comedy is also loved by the viewers.
With Simmba being the last big release of the year, the audience were all happy to have an end to their year with a bang.
This is Ranveer Singh's second release of the year after Padmaavat . He was being seen as a front-runner for all the awards after his performance as Khilji in Bhansali's film.