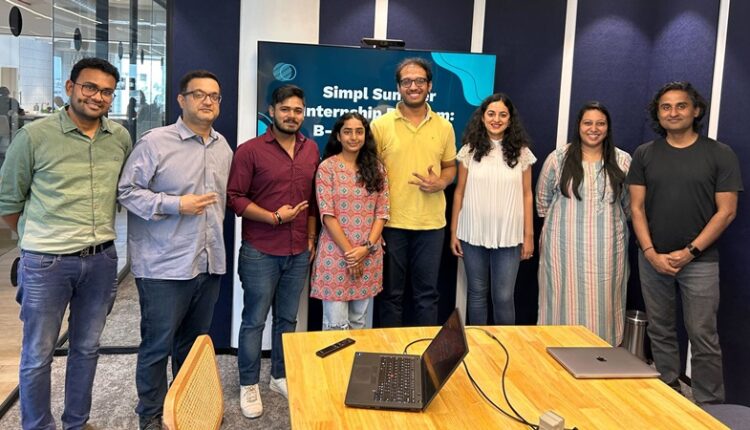 Simpl announces Summer Internship Program 2023 to promote innovation and collaboration among Engineering and Management students
Ten News Network

Mumbai, 4th July 2023: Simpl – India's foremost 1-tap Checkout, today announced its Summer Internship Program 2023 for engineering and management students from leading educational institutions across the country. The 2.5 month long internship program will provide students with a unique opportunity to gain valuable insights and hands-on experience in solving numerous problems statements of millions of customers, enterprise and direct-to-consumer (D2C) merchants across the country.
As part of the Summer Internship Program 2023, students from prestigious educational institutions, namely Indian Institute of Technology, Kharagpur, Indian Institute of Technology, Kanpur and Indian Institute of Management, Ahmedabad get an opportunity to work with various teams at Simpl at its headquarters in Bengaluru. This includes teams across Engineering, Data Sciences, Partner Success and  Product Management where they will be provided an opportunity to work on various tech capabilities like app experience, fraud analytics, platform management, etc.
This exposure assumes significance for the interns as the Indian e-commerce and Direct-to-Consumer (D2C) ecosystem is evolving rapidly, allowing merchants to directly onboard customers instead of solely relying on large e-commerce marketplaces. This is resulting in the 'Unbundling of E-commerce', thereby opening up a plethora of opportunities for companies in the e-commerce value chain including technology platform, logistics services and Checkout Network to innovate and provide value to merchants.
Sneha Arora, Chief Human Resource Officer, Simpl, said, "As a people-focused organisation, Simpl has been at the forefront of promoting innovation and collaboration through knowledge sharing and building an ecosystem of skilled workforce for the fast evolving e-commerce industry. With this year's Summer Internship Program, we aim to strengthen industry-academia collaborations, and empower students to leverage our nuanced understanding of this space and the checkout network to create innovative solutions to unlock growth for D2C merchants across the country and enable great customer experience . Our carefully curated internship program exposes students to real world problems and encourages them to actively contribute to developing path-breaking solutions. By working with the best minds at Simpl, the internship program also works towards the overall development of the students".
The internship program is structured in a way that exposes the interns with cross-functional challenges and provides them with a good idea around the overall functioning of the organisation. The students will further be provided an opportunity to present their contribution towards the end of their internship to the leaders at Simpl through a formal presentation, participate in Simpl's learning series with subject matter experts and will also be a part of a dinner hosted by Simpl's founder Nitya Sharma. Over the years, Simpl has been hiring interns from India's leading engineering and management institutions including the likes of IIT Delhi, IIT Guwahati among others and is gradually emerging as a preferred option for undergraduate and postgraduate students for industry exposure.