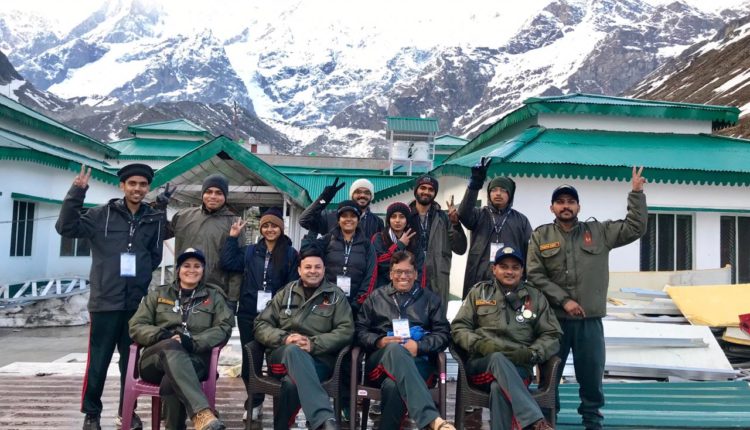 Delhi (23/03/2020) : The Six Sigma Healthcare, Delhi on Monday offered its 350 Medical Staff & Six Sigma 5 Story Building for setting up isolation wards and quarantine facilities for the treatment of coronavirus-affected people in Najafgarh, Delhi.
In a letter to Secretary – Health, ministry of Health & Family Welfare  CEO & Medical Director Dr. Pradeep Bhardwaj, said that entire Six Sigma House & Medical Staff, Healthcare Volunteers can be used for this purpose. He said that, we don't want to become liability on Any Government or Agency,  Six Sigma want to send a strong message to all private corporate hospitals,, to come forward in the need of the hours. He also said that, big hospitals can spend their CSR Funds into COVID-19 Medical Care at their respective hospitals.
In India, we have more than 7000 big, medium or small healthcare centres, and this is the time, where they can add maximum value in developing safe healthcare for society, Said Dr. Pradeep Bhardwaj.
On Monday, Dr. Bhardwaj has done a special meeting Sh. Sunil Sharma, IAS, Joint Secretary, Ministry of Health & Family Welfare, Nirman Bhawan and offered a written request letter to convert their centre into COVID -19 Hospital. Mr. Sharma, Joint Secretary & Dr. N.K Dhamija, Director- Training, appraised Six Sigma for taking first of its kind step in private healthcare and advised them to prepare the centre accordingly. He also directed Dr. D.K Sharma, Medical Superintendent, AIIMS Delhi to issue one special sample of PPE to fight CORONA.
The tradition of valour and sacrifices is daily part of life at Six Sigma Healthcare. The story of Six Sigma is a golden Journey, in the history of human lives. They demonstrated the rare capability in high hills. Six Sigma do the things, that's make India proud, The religion of Six Sigma is to save lives.
Six Sigma healthcare is the Pride of The Nation, Since 2003. They are dealing with the question of life and death.  The team of 350+ doctors, Para medicals has  Rescued 6200 victims. The most amazing is that, SIX SIGMA is not taking any Donation- They are not the liability on any Government.  They are leading by example. Six Sigma Healthcare is associated with more than 370 Hospitals & healthcare groups and institutes across India.