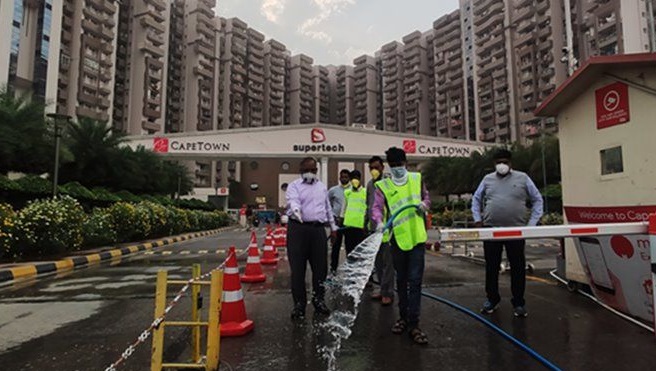 Supertech sanitized its Capetown Sector 74 project after a resident tests positive for Corona
Pravendra Kumar Singh
Greater Noida (23/03/2020) : PM Modi's 'Janta curfew' initiative on Sunday has now led to a complete lockdown in several parts of the country.
Health department is screening Coronavirus infection at all levels by various means like spraying with different chemicals and sanitization. Sanitization at different levels in all the states of India is going on.
After another new positive case found in Gautam Buddh Nagar's cape town project in 74, the Supertech Group took an initiative to sanitize whole Society by itself which has been praised by health officials.
After successful completion of sanitization in Capetown Project in Sector 74, Noida, Supertech Group has developed a team of experts which is doing sanitization of homes and complexes where any Corona positive persons are detected.
To fight against Coronavirus pandemic, Supertech Group has dedicated an expert team to District Administration to attend any such case free of cost, as an act of community & social responsibility.
Supertech Chairman R K Arora said, "We have created an 8 member expert team which is looking after sanitization work in societies and individual homes. Today we have sent our expert team to Greater Noida's Alpha One Commercial Complex as one positive case has been found there."
Mr. Arora further said, "As our nation is fighting against COVID-19, we as a Corporate Company have some responsibility, and we are doing our bit. The Company is regularly in touch with District Administration to provide any kind of help to fight against COVID-19. The expert team uses Stabilized Sodium Hydrochloride cleaner."
Mr. Tanveer of Supertech (Mob.8130156786) can be contacted for any assistance.