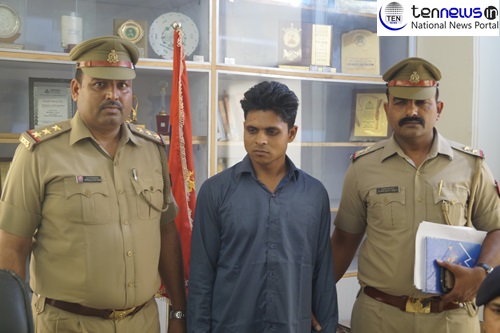 Son who killed own mother arrested by Greater Noida Police, another brother succumbs to injuries
Saurabh Kumar
Greater Noida : Yesterday Greater Noida police had arrested Ajit (27) the accused for murdering his mother and a brother in an issue of property dispute.
The police nabbed the accused around 10:15 pm from Jewar Under pass when he was trying to flee in his swift car. Police has recovered the car and also the iron rod which he used for assaulting the victims.
 SP (Rural) Gautam Budh Nagar, Suniti told that Ajit Singh native of Rasoolpur village of Jarcha is the eldest of three brothers and has done an MBA. He is currently working for Axis Bank on some temporary job.
On Monday, apparently unhappy over repeated demands by one of his brother for division of property, he committed the crime. One of his brother had got married just 2 month back and was allegedly pressing for division of property and money. The accused also had some criminal history and police is probing it further.
In the incident that occurred on Monday morning around 6am the accused first attacked his mother Shakuntala and younger brother Pushpendra, who were asleep in one room. He hit both of them multiple times on their head. Then he moved to the adjacent room of his other brother Ratindra and his wife pooja, after few knocks he asked Pooja to send Ratindar out as he wants to talk to him. As he came out side and went to bathroom Ajit attacked him with the rod making him gravely injured.
Neighbors got to know about the incident when Pooja rushed outside screaming and seeking for help. In between Ajit also attacked Pooja, leaving her with minor injuries.
There after Ajit fled from the spot in his swift car. All three victims were rushed to hospital While Shakuntala died on the way, Pushpendra was shifted to Safdarjang Hospital in Delhi but he also died today morning. The other brother  Ratindra is still not out danger but his condition is said to be stable.