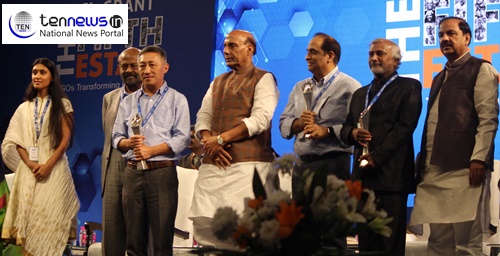 Home Minister Shri Rajnath Singh Felicitates HCL GRANT 2018 Recipients
PHOTO/VIDEO/- JITENDER PAL
STORY BY – ASHISH KEDIA
The three winning NGOs receive a Grant of up to INR 15 crores
Noida, India, March 09, 2018 – Hon'ble Union Home Minister, Government of India Shri Rajnath Singh felicitated the winners of HCL Grant 2018 at a ceremony held today at HCL Technologies Campus, Noida. Three NGOs across the categories of Education, Healthcare and Environment won a grant of up to INR 5 crores each.
The occasion was also graced by Dr. Mahesh Sharma, Hon'ble Minister of State (Independent Charge) for Culture and Minister of State for Environment, Forest and Climate Change, Government of India, diplomats, dignitaries, senior bureaucrats, Shri Shiv Nadar, Founder & Chairman, HCL, Smt. Roshni Nadar Malhotra, CEO, HCL Corporation and Chairperson of the CSR Committee for the HCL Technologies Board, Shri C Vijayakumar, President & Chief Executive Officer, HCL Technologies and HCL Group leadership.
Recipients of HCL Grant 2018 are:
• Health – Eleutheros Christian Society
• Environment – Keystone Foundation
• Education – Royal Commonwealth Society for the Blind (Sightsavers)
Rajnath Singh, Honorable Home Minister, Government of India said, "I congratulate the HCL Grant winners and HCL for the work they are doing. It is my hope that in the years to come the social value of HCL Foundation will continue to increase. In a country like ours it is important for everyone government corporates NGOs and civil society should work together towards development agenda. In the years to come we will work towards gross domestic prosperity."
During the event, Shri Rajnath Singh also released the second edition of the "The Fifth Estate – NGOs transforming Rural India in Environment, Health and Education", which is a comprehensive sector compendium of the most credible NGOs striving towards empowerment of rural India.
One of the most coveted institutionalized CSR Grants of India, HCL Grant is a recognition of the rise of community led ecosystems of NGOs – the Fifth Estate. It identifies NGOs doing path-breaking work in rural development through an independent, robust and democratic process.
The eminent Jury for this year's Grant comprised of Ms Robin Abrams – Former President of Palm Computing, and the longest-serving Board member of HCL Technologies, Dr. Isher Judge Ahluwalia- Chairperson of Indian Council for Research on International Economic Relations, Mr B.S. Baswan — Former Director, Indian Institute of Public Administration and Civil Servant, Mr. Richard Lariviere – President and CEO, Field Museum, Chicago and Former President of the University of Oregon, Ms. Pallavi Shroff – Managing Partner of Shardul Amarchand Mangaldas & Co. and Mr. Shiv Nadar – Founder & Chairman, HCL.
"It is an innovative step towards re-establishing the value of strong governance in the world of civil society and providing an international visibility to Indian NGOs that are doing path breaking work in the arena of rural development. It promotes sharing of best practices in the field of Environment, Health and Education – practices that are transformative in nature and work towards poverty alleviation." said Ms Robin Abrams, Former president of Palm Computing and longest-serving Board member of HCL Technologies.
The third edition of HCL Grant witnessed an overwhelming response from NGOs belonging to almost all Indian states and Union Territories across the country. Every application was carefully scrutinized through a robust 8-month long process and the winners were selected from a pool of around 3500 applicants. Out of the initial applicants, 49 NGOs were selected for field investigation; wherein, a team of experts went to the project locations and evaluated the work being done by these NGOs on ground. Basis the due diligence of reports received from field-level investigation and profile evaluation, 30 NGOs were presented to thematic sub jury. Nine NGOs were identified for the final Jury evaluation and the winners were announced today in the category of Health, Environment and Education.
Ms. Nidhi Pundhir, Director – CSR and Head – HCL Foundation, said, "The overwhelming response of the development sector to HCL Grant reinforces our commitment to empower the NGOs working towards rural development. Each of the finalists were selected because they have had significant impact in changing the rural ecosystem of our country and selecting the winners from amongst them was a real challenge. We remain committed to supporting organizations that are reaching out to marginalized and underdeveloped rural communities and partnering in their transformational journey."
Today, HCL Grant supported projects cover 22 Districts, with approximately 2450 villages, reaching out to over 6 lac rural beneficiaries. These projects are operational in many states of India, including Uttar Pradesh, Rajasthan, Gujarat, Karnataka, Andhra Pradesh, Odisha, Jharkhand and Maharashtra. HCL Grant NGOs are selected through a year-long process that measures in detail and depth the impact of the NGOs, its governance and its people. The result is a selection paradigm that is transparent, democratic and audited every step of the way by the Governance Partner Grant Thornton.
For more information please visit www.hclfoundation.org/hcl-grant
About HCL Grant
HCL Grant, an initiative by HCL Foundation, the philanthropic arm of HCL Technologies is a step towards recognition of the 'The Fifth Estate' contributing towards Nation Building. Started in 2015, it is a commitment by HCL to strengthen transformation in the areas of Education, Health and Environment, by reaching out to marginalized, isolated and underdeveloped rural communities, and achieve sustainable socio-economic development. A unique aspect of the HCL Grant is that the organizations are recognized not only based on the "idea", but also for their power to transform ideas into implementable projects and thereby, transform Indian villages in a sustainable way.