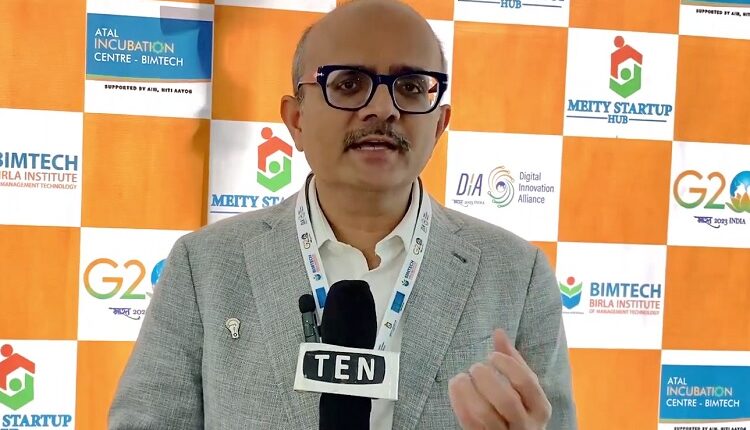 Startup Ecosystem To Get Major Boost Through Startup20 Initiative under G20: Atal Innovation Mission Chief
TEN NEWS NETWORK
Greater Noida, March 28, 2023: India's startup ecosystem is set to receive a major impetus through the Startup20 India Initiative under G20 India 2023, opined Dr. Chintan Vaishnav, Mission Director of Atal Innovation Mission and Chair of Startup20 on Tuesday at the StartupKumbh, a G20-DIA National Roadshow.

Expanding on the Startup20 India initiative, he remarked, "For the first time, the world has come together to endorse India's proposal for an independent, standalone engagement dedicated to startups. While there have been startup-related conversations within the G20, this is the first instance where the group will produce recommendations for global leaders on how the startup ecosystem can work together."
When asked about how the startups can navigate through the current macroeconomic challenges, Dr. Chintan Vaishnav said, "It is easy to advise a startup but much harder to be one". He stressed that solid foundations, economics, and business models, as well as disciplined execution, are the keys to securing funding.
Speaking on India's innovation ecosystem, he said the ecosystem rests on the shoulders of several giants, including incubators and the Startup India initiative. Each of these entities nurtures a diverse range of ideas in their early stages, providing a springboard to the larger ecosystem. The private sector is yet to invest in these incubators, and the focus is now on linking them with the market to raise funds. These incubators help turn negatives into positives, effectively reducing the gestation period for startups.
Speaking on the Startup Kumbh – the national roadshow, organized by BIMTECH in collaboration with Ministry of Electronics and Information Technology (MEITY), Dr. Vaishnav said, "The national roadshow has been a significant step toward promoting startups and entrepreneurship in India. The support of the government, industry experts, and institutions like BIMTECH has undoubtedly created an atmosphere of positivity and optimism, which bodes well for the future of India's startup ecosystem."