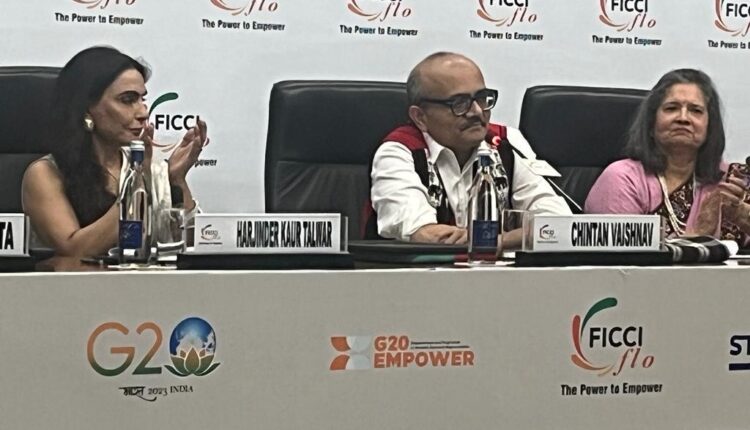 Startup20 part of G20 to focus on Inclusion and Sustainability with increasing support for women led Startups : Dr Chintan Vaishnav
New Delhi March 30, 2023  Startup20 India Chair Dr. Chintan Vaishnav stated that as the world's third-largest startup ecosystem, India is well-positioned to lead the charge in supporting innovative startups, particularly in the sectors of global importance. The Startup20 Engagement Group will work to further support

Women startups in the country and the group.
"We will harmonize the global startup ecosystem through consensus-based definitions and promote a global community of knowledge sharing among startup ecosystems to explore opportunities.The group will also bridge the knowledge gap between the startup ecosystems of G20 member countries and emerging economies through partnerships with enablers such as incubators and government agencies." Said Chintan Vaishnav, Chairperson of Startup20 India, and the Mission Director for Atal Innovation Mission (AIM) while speaking at a session 'The need to foster an inclusive startup eco system' organized by FICCI ladies  Organisation (FLO) as part of its 39th annual meet.
"Additionally, we aim to create supportive policies for industry players and government organizations to work with startups, .The Startup20 has three main task forces; the Foundation and Alliances Taskforce, Finance, and Inclusion and Sustainability. For Inclusion and Sustainability, the roadmap involves increasing support for women led Startups and organizations.At present out of about 3000 startups under the Atal innovation mission about 975 are led by women or partnered " said Dr Vaishnav.
"We at FICCI Ladies Organisation (FLO) have the Start Up & Innovation Cell and have backed up about 2000 start-ups led by women and 30 incubators. For the empowerment initiatives, we have included some very important aspects of financial literacy, digital literacy, differently abled cell, FLO market place and FLO think tank." Said Ms Jayanti Dalmia , National President, FICCI Ladies Organisation (FLO) speaking on the occasion .
"We at FLO, believe that the resources and strengths of women need to be channelized, to help their full potential. It acts as a catalyst for the social and economic advancement of women and society at large .As the women's chamber we must identify areas that need policy change, but more so, help women know the opportunities that already exist" she said .
Ms Harjinder  Kaur Talwar, past president , FLO and Business chair Satrtup20 inclusion track chaired the session
Those present on the occasion included Ms Sudha Shivkumar, incoming National, president, FLO,Ms Rashmi Sarita, Executive Director, FLO,  Ms Vinita Bimbhet, Past president, FLO , Ms Ujjwala Singhania, Past president FLO and Jayshree Das Verma, Sr. vice president, FLO