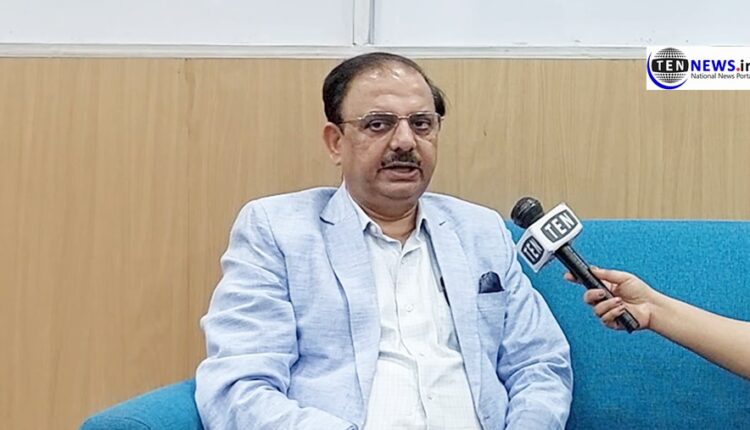 Success of IHE 2022 is a testimony to revival of hospitality sector: Dr Rakesh Kumar, Chairman, India Expo Mart
Ten News Network

Greater Noida, (05/08/2022): When it comes to the field of exports and exhibitions, Rakesh Kumar, needs no introduction. As one of the pioneers in the field, Dr Rakesh Kumar Chairman IEML and DG EPCH has made a unique mark for himself and have inspired thousands to foray into this field.
In an exclusive conversation with Ten News, Dr Rakesh Kumar spoke about the hospitality sector and the ongoing International Hospitality Expo 2022.
Talking about the exhibiters, their products and services showcased at the India International Hospitality Expo-2022, Dr Rakesh Kumar says that the main objective of IHE is to showcase a world-class range of products depicting the creativity and culture of India. "Products ranging from kitchenware, tableware, equipment used in cafes, restaurants, gyms, resorts, wellness retreats, etc are displayed here. Everything is available under one umbrella and that is what IHE means", he said.
When asked about the future of the hospitality sector and the contribution of IHE, Rakesh pointed out that virtual shows and webinars were held during the pandemic and all the different divisions were connected while the supply chain was maintained.
He also shared that the 5th edition of IHE is a "testimony to the revival of the entire hospitality sector." Dr Rajesh Kumar mentions that efforts are now being made to promote more local products rather than imported products from other countries such as China. "The supply chain is now going to focus on indigenous products as well as sustainable and service-oriented mechanisms. Sustainable development and advancement of North-eastern states are one of the most important objectives of this show", he added.
Speaking about the hospitality sector, Dr Rakesh Kumar asserts that different parts of the hospitality industry such as culinary sections, technology and engineers are all being associated with the exhibition. Cross-section promotion of the same is also being included in the Expo.
When inquired about the third day of the Expo and its progress, Dr Rakesh Kumar exudes confidence that they are expecting a lot of footfall along with satisfied visitors and the progress is beyond expectations. "Being a B2B show, each and every visitor matters to us," he added.