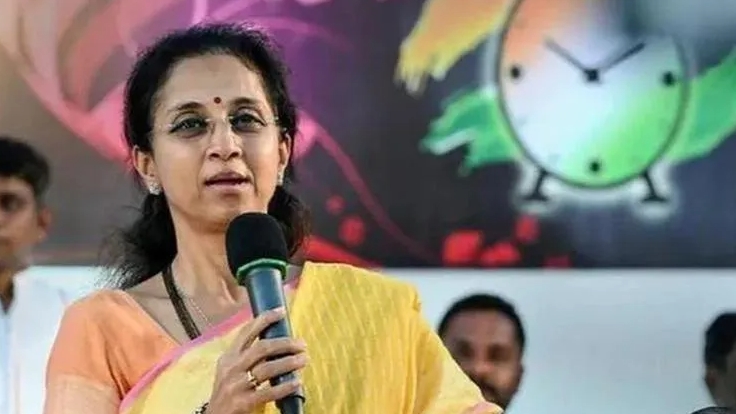 Supriya Sule Denies Cabinet Berth Offer, Urges Congress Leaders to Reflect on Statements
TEN NEWS NETWORK

Mumbai, August 16, 2023: Amidst swirling political speculations, Nationalist Congress Party (NCP) leader Supriya Sule has refuted claims that she was offered a central cabinet portfolio.
Reacting to a statement made by Congress leader Prithviraj Chavan, suggesting that a central cabinet berth was proposed to either NCP veteran Sharad Pawar or his daughter Supriya Sule, Sule clarified that no such offer had been extended to her.
Addressing reporters in Mumbai, Sule stated, "I have received no such offer and neither has anyone had any conversations on those lines with me. You should ask them (Maharashtra Congress leaders) why they are giving such statements. I have no idea."
In the wake of heightened political discussions, Sule urged the Congress party to introspect on the motives behind such statements. While she maintains regular contact with senior Congress leaders at the national level, she clarified that she isn't in touch with their Maharashtra counterparts.
This comes amid a backdrop of intricate political dynamics in Maharashtra, with Congress leader Vijay Wadettiwar questioning the meetings between NCP's Ajit Pawar and Sharad Pawar. The latter holds a crucial position in Maharashtra politics, and his interactions have sparked speculation about potential shifts within the political landscape.
Wadettiwar alleged that Prime Minister Narendra Modi had presented a condition to Ajit Pawar, Deputy Chief Minister of Maharashtra, that he must secure Sharad Pawar's support to join the BJP-led National Democratic Alliance (NDA) at the central level.
As the Maharashtra Congress's core committee meeting continues, these political exchanges contribute to an atmosphere of anticipation and strategic maneuvering.