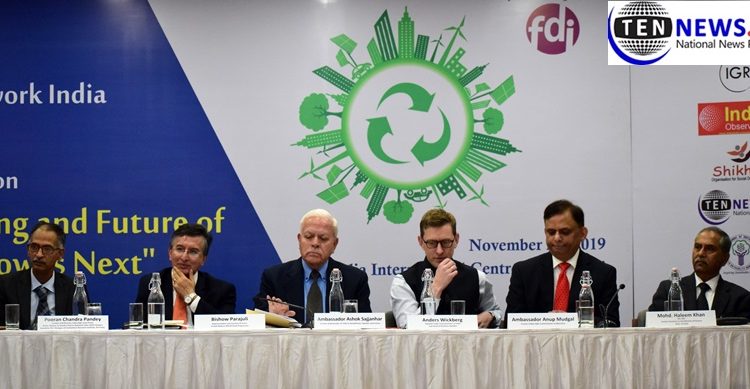 Sweden Alumni Network India organizes High-Level Panel on "Circular Designing and future of Sustainability"
Saurabh Kumar (Photo-Video) Lokesh Goswami Tennews New Delhi :
New Delhi, 23/11/2019: The Sweden Alumni Network India – Delhi Chapter organized a High-Level Panel yesterday on the theme "Circular Designing and future of Sustainability: Now is Next" at India International Centre, New Delhi.
The objective of the High-Panel was to catalyze the adoption of innovations within the sector, with a larger aim to help foster cross learning which would impact the emerging sector of circular economy.
The conference witnessed innovation experts from the industry, for-profit domain, and practitioners who shared their innovations that are contributing towards eliminating the waste and creating value.
The conference began with a welcome address by Jayanti Pushkaran, President at Sweden Alumni Network India – Delhi Chapter.
Pooran Chandra Pandey, MD, SOENT Group and Senior Advisor to the Sweden Alumni Network India too welcomed everyone in his inaugural address. Speaking at the conference, he said, "To achieve sustainable development everyone has to come together."
Further he raised his concern over the waste that is being generated because of the new ways which we are using to harness energy. He said "I am concerned over the use of solar panels because as of now there is no way to dispose them ones there life is over. Same is the concern with lithium batteries which will be extensively used for electric mobility in coming days.
Ashok Sajjanhar, Former Ambassador of India, in his address, said, "This Alumni chapter will strengthen the relation of India and Sweden. Soon, King of Sweden will also be visiting India, as he himself is very concerned of environmental issues and water conservation. It will open the doors for talks between both the nation regarding how to minimize pollution levels in Delhi."
While talking about the SDG's, he said "All the 17 of the SDG's are interlinked to each other, without achieving one, another can't be achieved."
"How much the whole world will be successful in achieving the SDG's by 2030 will depend on India to a larger extent. If India fails in doing so then the world will automatically fail," said Mr. Sajjanhar.
Anup Mudgal former Indian High Commissioner to Mauritius said "Nature in itself is the biggest enterprise but it doesn't produces any waste, so why do we?" he questioned. "Still we have lot many opportunities through which we can head towards sustainable development. From now onwards if we start working completely in sustainable way in just two sectors i.e construction and transportation sector, then we will be able to make a big difference," Mr. Mudgal added.
Pankaj Pachauri, Former Advisor to Prime Minister of India and Editor in Chief of GoNews led the Panel discussion in the second segment of the day which had 5 other eminent panelists. The deliberations were held on the current state of waste in the value chain and how potential solutions can be identified for the problems of waste that draws on the principles of circular economy and that are underpinned by market and regulatory tools.
Mr. Pachauri enlightened the delegates and audience with some amazing facts on how our daily routine things affect the environment. He said "Shampoo sachets are degrading the land to a very large extent. The reason those sachets are bought is because large part of the population cannot afford to buy shampoo bottles.
While interacting with Ten News he suggested that the companies making such non-biodegradable products should guide the consumers on how they should dispose those products through a disclaimer on the packaging.
Nishtha Satyam, Deputy Country Representative for UN Women, during the panel discussion, said, "It's unaffordable for us to not involve women or keeping them side while discussing over circular designing. We need them to engage in things like planning, designing, artificial intelligence."
At last, while delivering vote of thanks, Jayanti Pushkaran assured that the outcomes of the discussion will be compiled and shared with various sector including government and our partners. She said, A book will also be published on today's panel discussion and a summit on this will also be organized in 2020.
Video Highlights of High-Level Panel on "Circular Designing and future of Sustainability Now" by Sweden Alumni Network India
Photo Highlights of High-Level Panel on "Circular Designing and future of Sustainability Now" by Sweden Alumni Network India