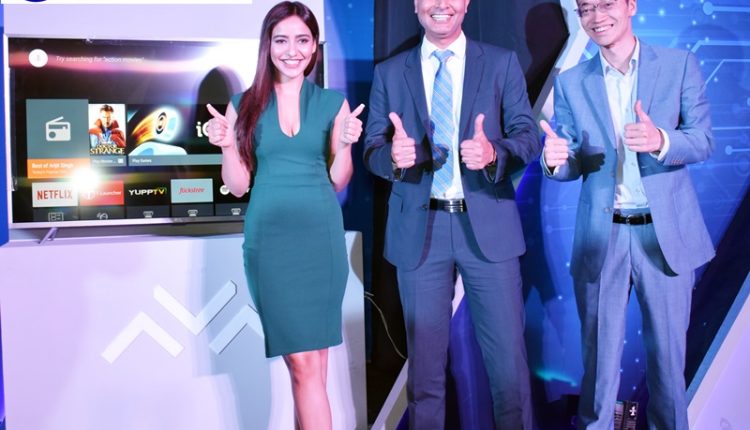 TCL launches feature loaded and cheap iFFALCON Smart TV Range in India, sale to Kick off on 7th May through Flipkart
New Delhi:  In a game-changing move which could potentially redefine how Indians consume new-age entertainment content, TCL Multimedia, one of the top-three TV manufacturers in the world, has launched its India-centric smart TV brand iFFALCON in the market through its exclusive association with Flipkart. TCL also showcased two stunning smart TV offerings, iFFALCON 55K2A powered by Android 7.0 Nougat and iFFALCON F2, at the grand event.
Through iFFALCON, TCL aims to upgrade the home entertainment experience for viewers across the country by giving them seamless access to their choice of entertainment, whether online or offline. Operating at the intersection of high-quality content, smart technology, and powerful hardware, iFFALCON provides the most fulfilling and enriching entertainment experience to its users by delivering the ultimate audio and visual spectacle.
What makes iFFALCON's launch such a landmark development is how TCL has customized the cutting-edge, market-leading solutions of its smart TV sub-brand iFFALCON for the Indian market. It also marks the first time a smart TV range equipped with Android 7.0 Nougat has been introduced in India. TCL's renowned vertically-integrated manufacturing capabilities ensure that everything from backlight and module to display, set, and panel is produced in-house to meet and exceed global quality standards.
iFFALCON's high-quality products are equipped with the latest technology and are supported by the strong background in global smart TV operations and service localisation of its parent company. Heavy investments into advanced technologies such as 5G, big data, and artificial intelligence made by TCL enable iFFALCON to provide users with direct access to personalised content. Through its robust partnerships with leading content providers such as Jio Digital, Netflix, Google Play Movies & TV,Youtube and ErosNow , Yupp TV, Flickree. iFFALCON also offers its customers with a rich and diversified content library for a more immersive entertainment experience.
Speaking on the launch,Tony Guo, Global CEO, iFFALCON Technology, said, "With the demand for smart home entertainment solutions in India growing at a rapid pace, the country's smart TV market is in need for more technologically-evolved offerings. The launch of iFFALCON smart TVs will fulfil this need-gap. We are bringing the latest entertainment technology to India for fulfilling iFFALCON's brand promise of enabling an 'Incredible Smart Life' for every customer."
Ten News Caught up Exclusively with the Bollywood Diva Neha Sharma on the Launch. Speaking About her Association with iFFalcon She Said, "iF Falcon is a brand which is launching in India. I was more excited because this is the for Smart TVs. Everybody wants a smart tv you can so many things with it. So i'm quite excited to be part of If Falcon family."
The iFFALCON range is available in three variants. The 32-inch iFFALCON comes with an HD Ready display and features like Motion Sensor and a 10W speaker. As far as connectivity is concerned the 32FA offers USB, HDMI, Ethernet port, and Built-In WiFi. The iFFALCON 32FA is priced at Rs 13,499.
The iFFALCONF F2 comes equipped with a 40-inch FHD display and with features like Full HD and micro dimming technology. It runs on Android 7.0 and the latest App Store on the iFFALCON F2 comes with a curated collection of 500 applications across various categories. The F2 comes baked in with a Dolby decoder and supports a vast range of video codecs including H.264/MPEG4/MKV/AVI.MP4. Safety features on the iFFALCON F2 include a lightning protection, fast heat ventilation, and a better voltage range. The iFFALCON F2 is available in both 40-inch variant and 32-inch variant.
The iFFALCON 55K2A is the top of the line offering in the new range of smart TV's. The 55K2A comes fitted with a 4K UHD panel that offers a resolution of 3,840 x 2,160. It also offers HDR for better viewing experience and the while LED HD backlight is expected to improve the color gamut and also provide a better dynamic color contrast. The Smart Volume feature will automatically adjust the volume according to the fluctuations in sound and it will also fine tune the audio as per the content you are watching