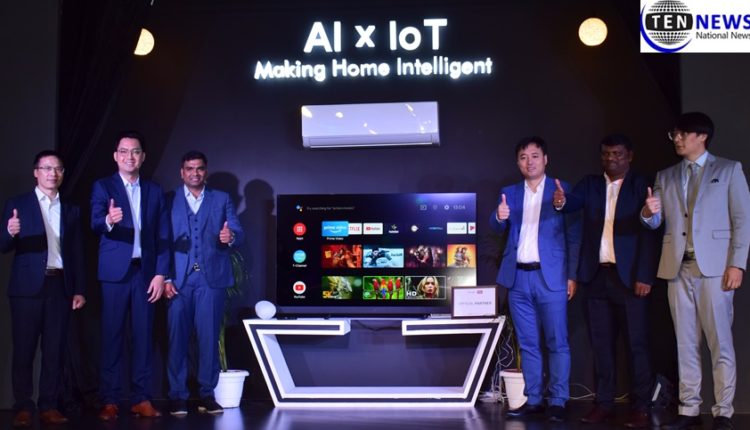 TCL launches its latest AI x IoT products with an objective of making home intelligent for the Indian consumers
Vishal Malhotra/Lokesh Goswami Tennews New Delhi :
New Delhi (08/01/2020) : The Global TV Corporation TCL has announced its launch of Smart range of AI-powered televisions and air conditioners along with TCL Home APP (Android + ios) today.
The global electronics is regarded as one of the most influential and important consumer electronics companies in the world with a time-tested legacy spanning over 39 years.
After enjoying enormous success and rapid growth in the TV segment, TCL is now ready to further disrupt the home entertainment and comfort space with its focus on AI-driven smart TVs and IoT enabled ACs.
TCL's latest launch of its 4K AI TV range is all set to revolutionize the TV sector in India. The TCL 4K AI Android TV series comes adorned with Dolby Vision and WCG for an enhanced and vivid viewing with deep and vibrant colours. The latest Onkyo speaker and Dolby Atmos technology maximises the sound quality and the TV also combines the latest Android Pie (9.0) system with a built-in Google assistant to bring the best cinematic experience to your home TV screens.
Also, the latest range of IoT-and-AI-powered Smart ACs by TCL with ultra-inverter technology is high on energy savings and designed for India's extreme climatic conditions. Touted to be powered by a high density filter and silver ion filtration technology that maximises air purification by removing bacteria from the environment and lending a fresh breath of cool and anti-bacterial air. TCL smart ACs also come with gold fin condenser and evaporator which ensure durability with quality manufacturing standards. Furthermore, the air conditioners are powered by TCL AI x IoT System, giving users cutting-edge options like hotspot or Wi-Fi control, voice-based commands, app control, and more.
Smart Air – The smart air is powered with state of the art AI and IoT driven technology. The SMART Series boasts of Smart home connectivity wherein the ACs can be controlled via TV, Mobile & Google Home. The ACs run on a cutting-edge AI Inverter Algorithm and a Smart diagnosis that enables low refrigerant detection & error detection.