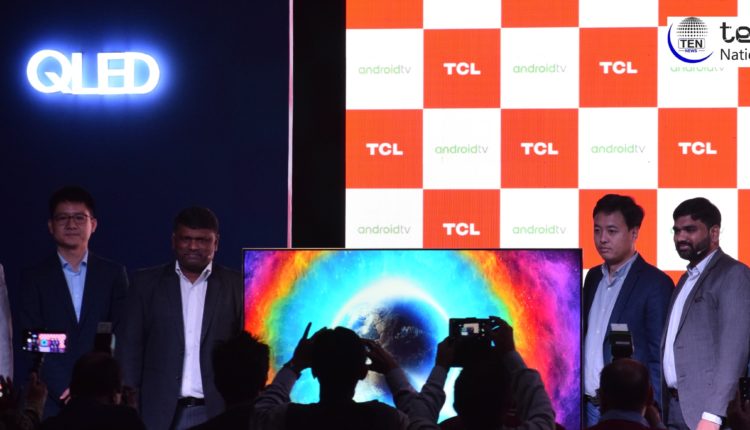 TCL launches two new TV products- The QLED TV & The AI TV
Vishal Malhotra (Photo& Video) By Rahul Kumar Jha
New Delhi;TCL Electronics, a global top-three television brand and a leading consumer electronics company, geared up to launch the 65×4, India's first Google-certified Android QLED Tv.
The latest stellar addition to TCL's extensive India portfolio will come equipped with Google-certified Android N QLED with Harman Mardon speakers and will have several cutting-edge features. With a launching price of INR 1,49,990 and available under a special festival season offer for INR 1,09,990 on Amazon, 65×4 will transform the smart entertainment experience in India by providing state-of-the-art technology at the most affordable prices.
Sebastian , Chief Marketing Director of TCL shared all the queries related to TCL's new products and said, "Our aim, from the very beginning, has been to make the latest entertainment technology available to the masses."
Marketing manager from TCL, India, Vijay Kumar shared how the product is worth the price it holds. According to him, TCL will soon be the largest electronics corporation, globally.
Other officials from TCL India also addressed the launch with their motivating speeches regarding electronics.
Chief marketing director of TCL, Sebastian, speaking with Ten News said,
"We have launched new products from TCL today and we are on our journey of bringing about a new change in electronics technology every year. Our market globally is now at its highest ever, and soon our products will be owned by every Indian as we are working on the best outcome at very low prices. "
When asked by Ten News about the change their new products will bring to their market, Vijay Kumar, Marketing manager from TCL India, said:
"QLED and AI TV of our brand will be available from 25th October at Amazon, Flipkart and stores of our brand and we have calculated our minimum profit from these two products is crossing Crores. The price range of these two Tvs are specially set for Indians."