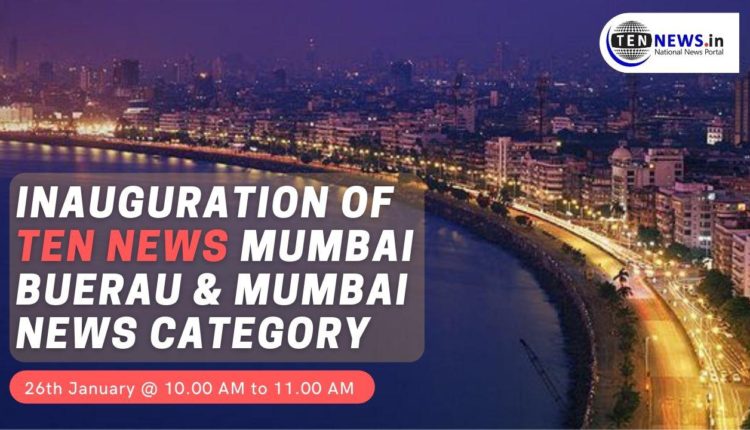 Delhi-NCR's one of the most loved digital news platform, Ten News, is finally arriving in Mumbai from January, 26, 2021.
The inauguration of Ten News Mumbai Bureau and Mumbai News category will take place on Tuesday between 10-11.00 am.
Guest of Honour gracing the occasion will be Sangram Singh, World heavyweight wrestling champion, Actor, Motivational Speaker & Health Expert with Ministry of Health & Family Welfare. He will be joined by eminent and well-known acting trainer, Rohit Taneja, Director of Roshan Taneja School of Acting , Mumbai.
Take -charge expert and Fast Selling Author, Gemini Dhar, who works with women entrepreneurs to 5x their growth will also join the dignitaries during the launch event.
Also bringing key insights from the financial capital will be, Aditya Kashyap, Investment Banker and EX VP of JP MORGON Chase Bank.
The launch event talks will be hosted by Dr. Atul Choudhary, a social Worker and MNC professional along with co-host, Dolly Kumari, who is also a social worker and a teacher and Social Worker.
Over many years, the Ten News Network has evolved as a digital network of online news and social media channels along with dedicated and flourishing Whatsapp Network. It promotes deserving information, thoughts, challenges and solutions as well as noteworthy people and organisations .
Its flagship digital platform, tennews.in – National News Portal, Publishes top ten news, from ten key categories – to keep you updated with day's top trending news.
Its reach is widened by the ten news live venture that broadcasts live from YouTube Channel and Facebook page, every newsworthy events, rallies, demonstrations, interviews and debates
Ten News takes pride in bringing engaging content from different cities, states and countries on the same platform and aspire to become one of the flag bearers in providing non-bias, accurate news to its viewers and subscribers.
With the new launch in Financial Capital of India, the reach of channel only broadens to a wider audience base, thus provide accurate news to more and more individuals throughout length and breath of the country.