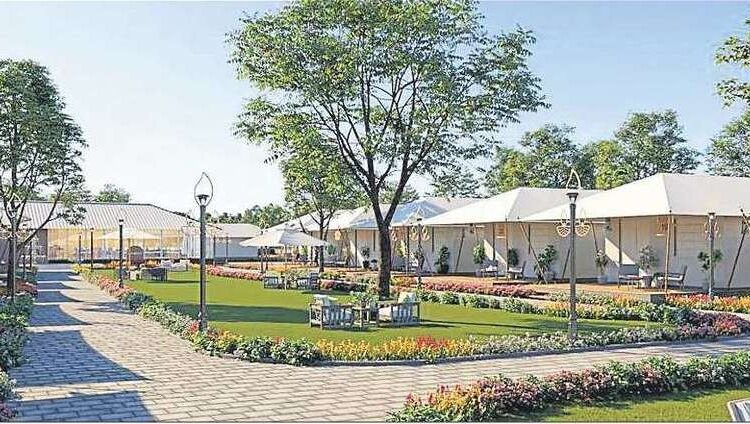 Tent city comes up in Ayodhya for consecration ceremony

Ayodhya, Nov 21 (IANS) The Ayodhya administration and Shri Ram Janmabhoomi Teerth Kshetra Trust have started setting up three tent cities in Ayodhya to accommodate around 80,000 devotees expected for the consecration ceremony of the Ram Lalla temple in January 2024.
Prime Minister Narendra Modi will be chief guest at the ceremony on January 22, while RSS chief Mohan Baghwat will also be present at the event.
The Ayodhya Development Authority is setting up a tent city in 20 acres in Manjha Guptar Ghat.
It will accommodate around 25,000 people.
Another tent city is coming up in the Brahma Kund area that will accommodate around 30,000 devotees.
The Trust is also setting up a tent city in 25 acres in Bag Bijaise which will accommodate around 25,000 people.
In addition to this, tent cities are also coming at Karsevakpuram and Mani Ram Das Chhavni in Ayodhya.
According to Satyendra Singh, secretary, Ayodhya Development Authority, all arrangements will be made in these tent cities for devotees to keep them safe from the harsh winter at the time of opening ceremony.
These tent cities will also have a community kitchen, medical centre, and ambulance service. In the consecration ceremony, the idol of Ram Lalla will be placed in the sanctum-sanctorum of Ram Mandir and thereafter the temple will be opened for devotees.
The Trust has also decided to invite non-resident Indians (NRIs) to Ayodhya after January 26, next year, to pay obeisance to Ram Lalla at the newly constructed Ram temple.
The Trust is preparing a list of 2,500 prominent people who will be invited to the consecration ceremony of Ram Lalla.
These invitees will be in addition to the 4,000 seers from all across the country who will be invited to the event.
–IANS
amita/ksk