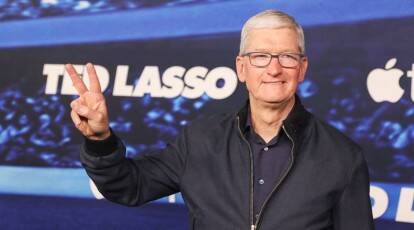 Tim Cook says Apple is Building AI into 'every product' Amid Questions over its Next Plans
Ten News Network

Cupertino(USA), 06/08/23: Apple CEO Tim Cook has stated that artificial intelligence and machine learning are "virtually embedded in every product," amid persistent speculation about the company's objectives.
In recent months, while the excitement surrounding AI has grown and most of Apple's competitors have released new features that make use of the technology, Apple has been fairly mute on its ambitions. For example, during its recent Worldwide Developers Conference keynote address, it made no reference of the term "artificial intelligence."
Some experts are concerned that the corporation is failing to keep up with rapidly developing technology and, as a result, may miss out on possibilities.
However, Tim Cook stated that Apple has been researching artificial intelligence "for years" and that it is boosting its spending. Cook made the remarks as the company released its latest earnings report, which reported a drop in sales of several of its products that was partially offset by the growing success of its services sector.
He also stated that technology is important to the design of Apple's products, implying that it was incorrect to claim that Apple had not yet integrated the technologies into its products.
Cook told CNBC during an interview, "We view AI and ML as fundamental core technologies. And they are virtually embedded in every product that we build…On a research basis, we've been doing research for on AI and machine learning, including generative AI, for years."
The CEO also stated that Apple's emphasis on artificial intelligence was one of the reasons that the statistics showed an increase in R&D investment.
Cook said, "We're going to continue investing and innovating and responsibly advancing our products with these technologies to help enrich people's lives…Obviously, we're investing a lot, and it is showing up in the R&D spending that you're looking at."