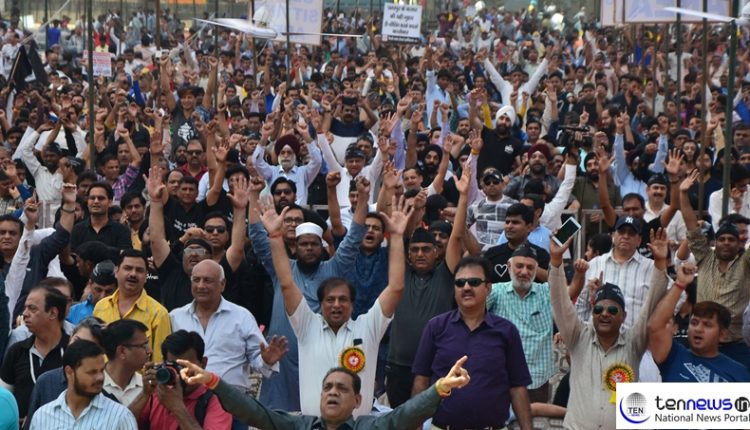 Traders hold massive rally at Delhi's RamLeela Maidan against sealing, threaten to go on indefinite strike
PRERIT CHAUHAN (PHOTO/VIDEO BY SAURABH SHRIVASTAVA)
New Delhi: Aimed to give strong message to Union and State Governments against sealing of shops, Delhi Traders' Association held a massive rally at historic RamLeela Maidan today.
Thousands of traders' associations, shopkeepers, staffs, women and children gathered at Ram Lila Maidan and raised slogans against ongoing sealing drive.
During the rally, the traders unanimously passed five major resolutions and threaten Union and State Government that if their demands were not met within a week, they may indefinitely shut Delhi's market or boycott paying GST and so on.
Confederation of All India Trades (CAIT) with an association with Delhi Traders' Associations gathered at Ram Lila Maidan.

While addressing in the rally, chairman of CAIT, Praveen Khandelwal said that according to Union Government's affidavit to the Supreme Court, the government admitted that only 16% of business infrastructure have been developed in Delhi so far while as per the demand the development would have around 86%. "Delhi traders have given their blood and sweat to fulfill the needs and now we have been treating us like a criminal. It is unfair." Said Khandelwal.
He further said, "Everyone knows Ajmal Kasab was a terrorist and Union Government had given 18 months to prove it, however, we are businessmen paying tax to the government but Delhi police and monitoring committee has been treating us like a terrorist. Without giving any prior notice they have been sealing shops." He added.

Later, they threatened that if union government has not fulfilled their demands within a week, the will hold a traders' conference and may take some strange decision like boycotting GST or shutting down Delhi markets for indefinite period.
Resolutions-
– Union Government should pass an anti-sealing bill in current session.
– Delhi government should pass an anti-sealing bill and send it to Union government for approval.
– Seal the shops by the book and deseal shops which were sealed before December 31, 2017.
– Notify all 351 roads.
– Include traders in drafting committee of Delhi master plan 2021.