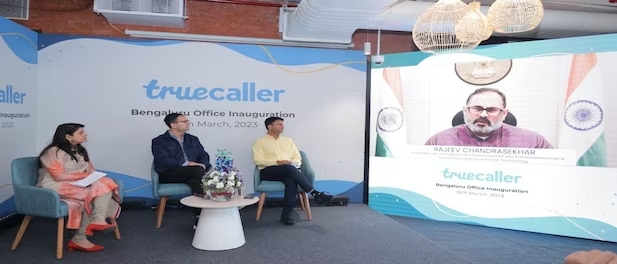 Truecaller opens Largest Office Space outside Sweden in Bengaluru
Ten News Network
Bengaluru (16/03/2023): Truecaller which is one of the largest Caller ID verification platform on Thursday declared the opening of Bengaluru as the location of its first exclusive office space outside of Sweden. Rajeev Chandrasekhar, Union Secretary of State for Skill Development and Entrepreneurship & Electronics and Information Technology, gave the office gave an opening speech on the occasion.

According to a company press release, the Bengaluru facility is located in a renovated space measuring 30,443 square feet and has top-of-the-line amenities and technology. It can house up to 250 employees.
According to Truecaller, it will use this facility as its main hub to serve users worldwide and offer features that are exclusive to India. The Truecaller branch in this location is the company's biggest outpost away from its Stockholm, Sweden, headquarters.
The Union Minister also congratulated Truecaller on the occasion and said that the move indicates India is a trusted member and technology partner in the world.
He said, "The government's vision and focus is on enabling entrepreneurship and expansion of a vibrant innovation and startup ecosystem in India," The minister added that ", (this) has been a result of the hard work of many years where our Prime Minister had outlined and set out one of the key goals of making India a technology enabler."