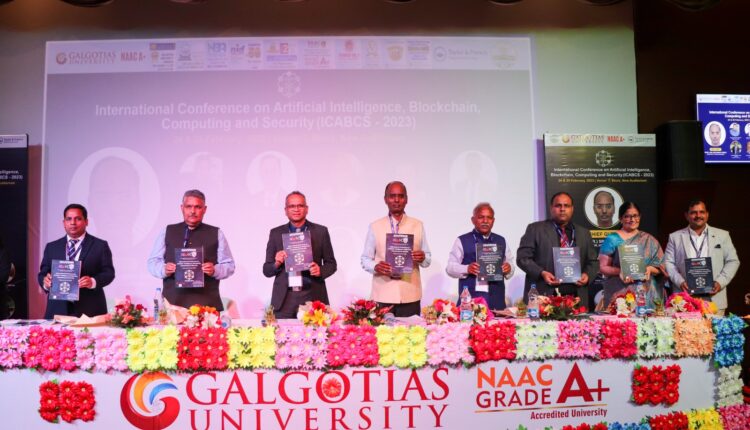 Two-day international conference ICABCS 2023 concludes at Galgotias University

The two-day international conference ICABCS 2023, organized at Galgotias University, concluded today on 25 February 2023 which was inaugurated on 24 February 2023 at Swami Vivekananda Auditorium at Galgotias University.
Professor Niwas Singh, Director of Atal Bihari Vajpayee Indian Institute of Information Technology and Management (Gwalior) inaugurated the ceremony as guest of honor.
Rajeev Tripathi (Former Director) Motilal Nehru National Institute of Technology Allahabad Prayagraj, and Professor D.K. Lobiyal (Jawaharlal Nehru University) too participated in the event.
Vice-Chancellor Professor Mallikarjun K. Babu and Pro-Vice-Chancellor Awadhesh Kumar, Vice-Chancellor Advisor Professor Renu Luthra, Registrar Dr. Nitin Goud and Deans of all departments were present on behalf of the university in the inauguration ceremony.
Conference Chair professor Arvind Dagar told that more than one thousand research papers were received in this conference from more than ten countries, out of which, more than 250 research papers were accepted on the basis of recommendation of two reviewers.
Chief Guest, Honorable Guests and Experts gave their speech regarding Artificial Intelligence, Block Chain and Computing Security and also motivated the participants for quality research.
During this two-day conference, a total of 22 research papers were presented in technical sessions. The closing ceremony was presided over by Prof. Awadhesh Kumar, Pro Vice Chancellor of the University.
Dhruv Galgotia, CEO of Galgotias University congratulated the entire team computer science including Dr. Munish Sabharbal, Dean of Computing Science, for the successful organization of the conference and said that this type of conference is very important and same will inspiration all the students to make new discoveries.