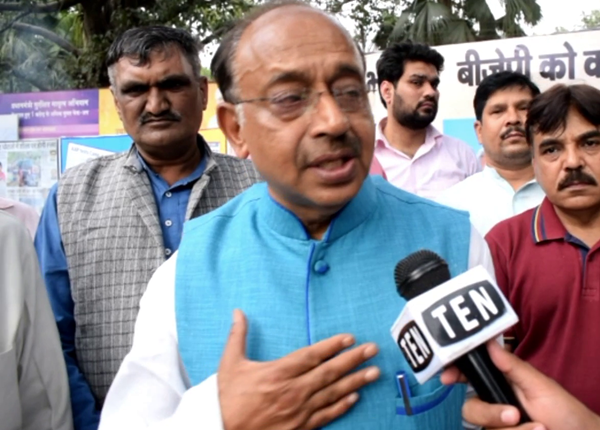 New Delhi: (20/03/2019) On March 20, Union Mininster Vijay Goel burns Holika of corruption of AAP and Congress for clean & strong govt in future.
The Protest was also joined by Human Resource Development Minister, Prakash Javedkar along with hundreds of BJP workers and local party leaders.
Speaking to Ten News, Union Minister and former Delhi BJP President Vijay Goel said that both the corrupt parties, Aam Aadmi Party and Congress are trying to forge an unholy alliance in their lust for power. Goel said that we can all imagine what will happen in Delhi if in their craving for power these two corrupt parties join hands in the upcoming Lok Sabha elections and the Delhi Assembly elections scheduled to be held in the latter part of the year.
Goel said that in the garb of craving for power, Rahul Gandhi has forgotten the insult of his late father Shri Rajiv Gandhi, meted out by Kejriwal on the floor of the Delhi Assembly by passing a resolution of stripping Former PM Rajiv Gandhi of Bharat Ratna honour. It is fate only, that the Delhi Pradesh Congress President is now Sheila Dikshit, who was promised to be sent to Jail on corruption charges by Kejriwal. Sheila Dikshit has also forgotten that insult and disgrace.