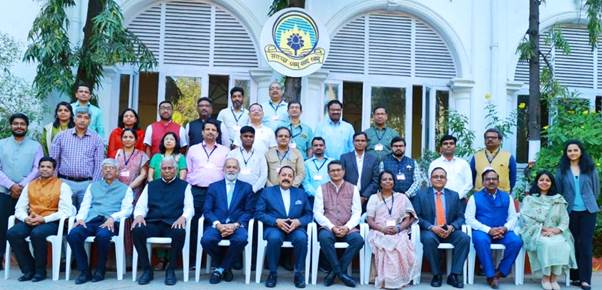 Union Minister Dr. Jitendra Singh launches training programme for Science Administrators in Hyderabad
Ten News Network

Hyderabad (17/02/2023): Union Minister of State (Independent Charge) Science & Technology; Minister of State (Independent Charge) Earth Sciences; MoS PMO, Personnel, Public Grievances, Pensions, Atomic Energy and Space, Dr Jitendra Singh launched training programme for Science Administrators at Administrative Staff College of India (ASCI), here.
On the occasion, the Union Minister also launched a governance course module through iGOT platform.
Speaking at the event, Dr. Jitendra Singh said that science and technology are essential to increase resilience and address the challenges of our time such as pandemics, sustainability, and climate change. Therefore, technology governance itself assumes a critical role, he said.
The Minister said, reaping the benefits of Science & Technology (S&T) is a critical challenge today, and many of the barriers to S&T lie not in science itself, but in the governance of science and technology.
The Union Minister said that the governance of science & technology poses a well-known puzzle: the so-called Collingridge dilemma, which holds that early in the innovation process – when interventions and course corrections might still prove easy and cheap – the full consequences of the technology, and hence the need for change, might not be fully apparent.
Dr. Jitendra Singh noted that India is a socialist nation and the S&T in India is similarly focused towards improving the ease of living for the citizen and the Science has to benefit the citizens, therefore, it is important that we put all of effort in supporting Scientific development with societally beneficial outcomes.
Dr. Jitendra Singh said that scientific research and development is not merely a government undertaking, but, private sector in India is also a party in Indian R&D story, though there is still a lot that mutual benefit can be achieved by public and private sector R&D working together, but the science administrators play a key role in making these bridges.
The Union Minister said that the Government, led by Prime Minister Narendra Modi, supports private S&T development at all stages, from early research stage to Business innovations. He added that the support could be financial in form of research grants and innovations grants or non-financial through infrastructure support such as incubators and software parks and the Science administrators play a key role in developing efficiently operating such critical nodes.
Dr. Jitendra Singh expressed happiness to launch the course on 'Science communications' for scientists and opined that the very first challenge for popularizing science is communicating what our S&T departments do for citizens, the ones for whom all this effort is for. He urged all the scientists and researchers to access the course from iGOT and channel their work for the public.
Dr. Jitendra Singh said that the course has been designed by ASCI and CBC for science administrators, and also targets building collaborations with the private sector.
The training programme on Effective Leadership and Creativity for Senior Scientists has been designed to impart the skills of creative thinking to the participating scientists, to enable them to learn various competencies to become effective leaders and in turn, enable the scientific establishments to operate more effectively in today's competitive environment.