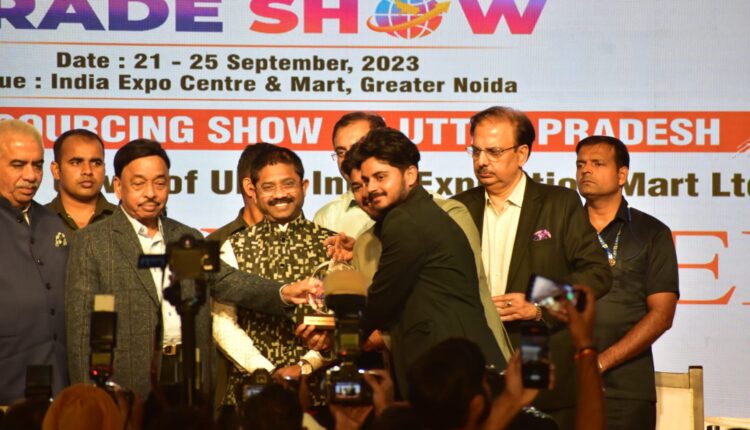 Union Minister Narayan Rane confers award on Galgotias University at UPITS
TEN NEWS NETWORK

Galgotias University got the first position at the concluding event of the five-day UP International Trade Show at the India Expomart Centre, Grade 9.
The chief guest of the program, Honorable Shri Narayan Tatu Rane, Union Minister (Ministry of Micro, Small and Medium Enterprises, Government of India) presented the trophy to the winning team of students of Galgotias University carrying his lotus flowers for securing the first position.
The "Model of Chandrayaan-3" made by the students of Galgotias University displayed in the UP International Trade Show remained the center of attraction for everyone till the last day. "Chandrayaan-3 Model" had made a special place for itself in everyone's heart.
More than 2000 exhibitors along with about 300 brands participated in this international trade show. In which the stall of Galgotias University was also set up in hall number 8 on the second floor. Here the students displayed their brilliant talent and unmatched skills by manufacturing high quality products. That is why today they have got the opportunity to get first place in this (UP International Trade Show). The students had exhibited many types of important products.
Talking about these excellent start up products, founded by Shobhit Agarwal, Tarun Satyaki and Shailvi Gupta, they have a collective background in mechanical engineering, electrical engineering, automotive engineering and a joint effort to make manufacturing in India.
The team of Prince Rana, Mayank, Harshit, Vanshika and Varnika, based on pure Ayurveda method, created a very tasty beverage called "Refreshment Drink" which removes physical fatigue and provides energy. In which basil, lemon, ginger and many types of Ayurvedic medicines which enhance the immunity system of the digestive system have been used.
There is a wave of happiness in the entire university on this great achievement of the students.
All the students hugged each other and wished each other.
Chancellor of Galgotia University, Sunil Galgotia, while wishing a bright future for the students, said that both hard work and discipline in life are helpful in opening the doors of success. You always have to keep moving forward with your innovative thinking.
Dr. Dhruv Galgotias, CEO of Galgotias University, sent his best wishes to the students and praised the team-work of the students and said that you all deserve congratulations for this immense success. In future too, you have to create new dimensions together like this.