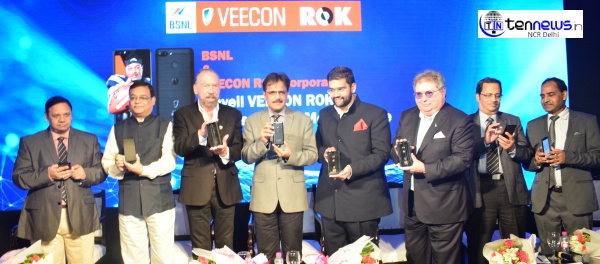 VEECON ROK Corporation unveils revolutionary City-Wide Wi-Fi Network
Vishal Malhotra (Photo & Video) By Rahul Kumar Jha
New Delhi: VEECON ROK Corporation Pvt. Ltd, a joint venture between VEECON Group and ROK Corporation, today unveiled the City-Wide Wi-Fi Network, to be established in 25 cities across India, in the presence of Anupam Shrivastava, Chairman of BSNL.
Speaking on the occasion, Gaurav Kumar Srivastava, Chairman, VEECON ROK Corporation Pvt. Ltd. said,
"We believe technology should improve everyone's quality of life. The ROKiT range of phones are going to revolutionise the smartphone business in the country as these are backed by the rich technological prowess of NASA Engineering. The unique feature of the 3D mobile phone is, you don't need to wear 3D glasses to use it."
Speaking at the occasion, John Paul DeJoria, Co-founder, ROK Group of companies said,
"In line with the government of India's digitization drive, the City-Wide Wi-Fi Network in 25 cities across India will bring the world closer to the people. We are thankful to BSNL for partnering with us to drive this ambitious project foreword. We are positive about the success of the pilot project and looking forward to embark on the next phase soon."
Jonathan Kendrick, Co-Chairman and Co-Founder of ROK Group of Companies, commenting on the occasion, said that,
"We are glad to introduce the first glasses free 3D mobile phone here in India. India is one of the fastest growing economies in the world with a huge consumer base for mobile handsets and we see a huge potential in the country for our products. We hope a good business with the people of India in the time striking us from the future."
While addressing the launch, Chairman, BSNL Anupam Shrivastava said,
"I am pleased to be here at the launch of City Wide WiFi project for 25 cities. This is indeed going to be a landmark initiative towards providing internet to every Indian, quite in sync with the government of India's digital India programme. In the wake of arguably cutting-edge technology and government initiatives, we are also pleased to associate with a emerging player like VEECON ROKiT and roll out this new range of mobile handsets."
The VEECON ROKiT range of mobile phones will made available through the BSNL outlets in the cities from the first quarter of year 2019.