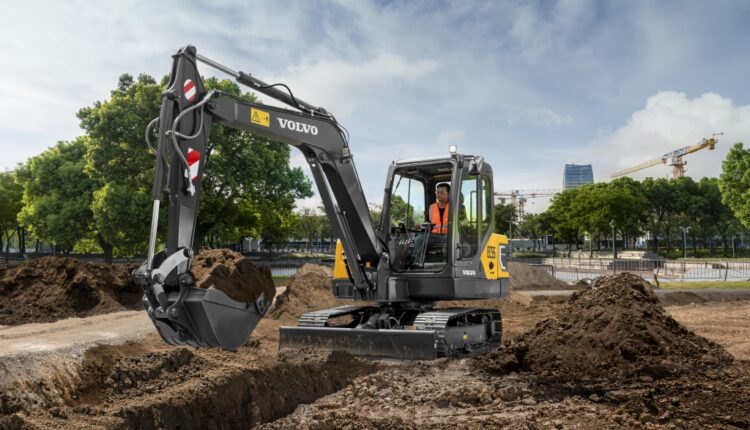 Volvo Construction Equipment showcases EC55 Electric Compact Excavator at bauma 2023 At India Expo Mart
Mumbai, 31st January 2023: Volvo Construction Equipment showcases an eclectic mix of machines focussed on road & retail segments at bauma CONEXPO at India Expo Centre, Greater Noida / Delhi NCR between January 31st & February 3rd, 2023. The objective is to explore the ways VCE can partner with key stakeholders to change the future of Indian infrastructure.

The showpiece is the EC55 Electric Compact Excavator. A revolutionary product from Volvo and an incredibly smart investment option, the EC55 Electric Excavator assures at least 50% reduction in energy costs and over 30% savings in maintenance expenses. It opens up new opportunities for businesses to operate profitably in noise-sensitive areas, low-carbon zones, indoors and other places, at all odd hours. The EC55 model will be available by early 2024 and ones who are interested can just share their interest with VCE via a QR code and the respective team will revert. Also on display is the Volvo EC 200D Crawler Excavator with Quick Coupler plus HB22 breaker. Versatility and complete ease in operations are hallmarks of this all-new variant. Featuring powerful engine, robust frame and optimized hydraulics, it is eminently suitable for a wide variety of tasks.
Alongside these two models there will be an exhibit of Volvo P7320 Track Paver. This is the most recent paver range to be manufactured & launched in India. The unit offers a winning combination of power, production capacity and precision for excellent paving quality with perfectly smooth mats. Fitted with 9m High-density Variomatic screed, the P7320D Paver offers a marked degree of flexibility when frequently changing paving widths. With a Volvo fixed screed, this Paver is proven to be effective when paving up to 700 tons per hour at 9 meters width. This level of throughput makes it versatile enough for a wide range of applications including city roads, highways and waste storage areas.
Dimitrov Krishnan, Managing Director, Volvo CE India, explained: "The Volvo CE Pavilion at bauma CONEXPO INDIA promises to offer visitors an engaging and unique Service Solution experience, utilizing digital and interactive features. The EC55 Electric Compact Excavator is a clean choice and smart investment for India and will reinforce Volvo CE as the technological pacesetter in the construction equipment industry, driven by innovation, quality and reliability."
As a one stop shop offer, Volvo CE and Volvo Financial Services (VFS) are also jointly offering on spot credit approvals and smart loan and lease solutions during the four-day exhibition for all new Volvo Construction Equipment.