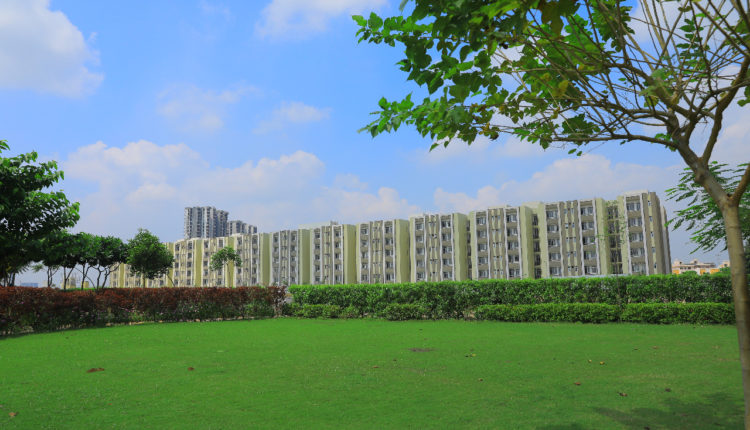 Wave City Offers Possession of Wave Executive Floors
Ten News Network
Noida (15/01/2020) : Wave City is first-of-its-kind project that truly personifies the concept of creating a city that "thinks for you". Spread across a vast area adjoining NH-24, the suburb of Delhi, Wave City is a largest self-sufficient Hi-Tech City. It is Largest Green Pre-Certified Platinum Rated Township, which offers a blend of commercial & residential innovations; and one such innovation of the city, Wave Executive Floors, recently has received Completion Certificate.
Wave City has already given offer of possession to over 3400 customers across its product range and over 400 families are already residing here. Now with the Completion Certificate received for Wave Executive Floors as well, and more possessions offered, more families will be moving in soon. The certificate has been received for a built up area of approx. 4 lakhs sq. ft. and 440 units. Built on Stilt +5 floor structure, Wave Executive Floors is only such product in Ghaziabad offering 2 / 3 BHK low-rise apartments.
Wave Executive Floors have been designed keeping in mind the global architectural trends. These stilt independent floors are enclosed within a gated community, ensuring privacy and safety. The project offers all the facilities and amenities of a premium development such as dedicated car parking and automatic elevators. Thoughtfully designed with technology and innovation, Wave Executive Floors are built adjacent to the 7 acre central park making these homes the ideal abode surrounded by greenery and serenity.
Speaking on this occasion, Mr. Munish Mishra, COO, Wave City, said, "We are delighted to receive the Completion Certificate for Wave Executive Floors. With the offer of possession being given to the home owners, they are expected to move in soon. Wave City is already catering to over 400 families, and with more moving in we are going to see a surge in the habitat here. With construction at fast pace, we are working towards creating a sustainable city, with enhanced liveability at a strategic location.
For the residents living here, wave city offers facilities like Safal store, Freshly Yours'-a convenient store, medical store and 24*7 security. Being a hi-tech city, Wave City also features smart features like GPS enabled intra-city transport facility, central command centre, city level surveillance, street light automation, connected community through web & mobile app, etc. Wave City has created a world class infrastructure for its buyers / residents. Keeping in tune with the buyers' demand, Wave City is dedicated to provide automated, safe, sustainable, and environment friendly atmosphere. The city's master plan and design is done by world renowned town planner and landscape designer – AECOM.