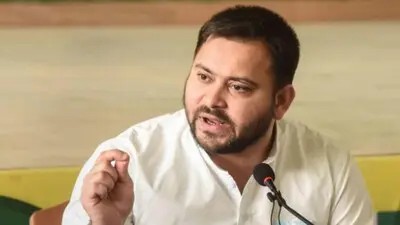 Will provide 10 lakh new jobs, deliver on promises, says Bihar Deputy CM Tejashwi Yadav
Ten News Network
Bihar, August 11, 2022: Newly elected Deputy Chief Minister of Bihar, Tejashwi Yadav on Thursday said that his government will deliver on the promise of providing 10 lakh new jobs. Yadav had made this promise during RJD party campaigns in 2020 elections.
"Our CM Nitish Kumar has informed all officials and party members that job creation should be the top priority", he said.
JD(U) leader Nitish Kumar once again took oath as the Bihar CM for the eighth time on August 10th after resigning from BJP-JD(U) coalition government a day ago.
"There are a lot of vacant posts in the government department. We will start by filling these up", said the Deputy CM, adding, "It was not just a promise but an acknowledgement of the crying need for employment generation in Bihar."
Nitish Kumar, Tejashwi Yadav and their supporters have previously blamed PM Modi's BJP for destruction of their party.
In this regard, Yadav also claimed in his speech that people will understand their allegations once they see the performance of their government.
"While sharing power, BJP did not accommodate even small requests like central status for Patna University which Nitish Kumar had urged for", he alleged.
The newly formed government led by Nitish Kumar and deputy CM Tejashwi Yadav is aiming to fulfil their promises made to the people and work towards the development of Bihar.
"The term 'Mahagathbandhan' came into being when Nitish Kumar ji joined hands with Lalu Prasad Yadav. We are very happy that he is back with us", said the RJD leader.