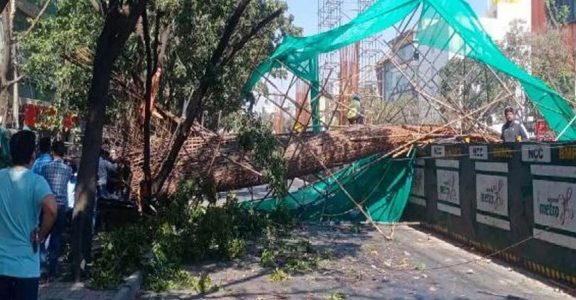 Woman, Toddler Killed in Bengaluru Metro Pillar Collapse
Ten News Network
Bengaluru (Karnataka), 10th Jan 2023: A woman, identified as 35-year-old Tejaswini and her 2-year-old son Vihan, have succumbed to death after a metro pillar fell on them in Bengaluru.
The victim was traveling on a motorcycle with her husband Lohith and their twin children, including Vihan, when the Metro pillar along the Nagawara line collapsed. The pillar came crashing down onto the road, striking Tejaswini and Vihan. Lohith and their daughter sustained minor injuries.
Tejaswini and her son were rushed to Altius Hospital nearby, but they were pronounced dead at around 11 a.m. Tejaswini died from internal bleeding, and Vihan died from head injuries. The cause of the collapse is currently under investigation, and officials are working to determine if there was any negligence on the part of the construction company or the government agency overseeing the project.
The incident has sparked concern and outrage among local residents, with many calling for stricter oversight and regulations to ensure the safety of ongoing construction projects in the city. Officials from the Bangalore Metro Rail Corporation Limited (BMRCL) have expressed their condolences to the victims' families and have announced an inquiry into the incident.
This tragic incident serves as a sobering reminder of the importance of safety in construction projects and the need for stricter measures to protect the lives of those who live and work near them. The family members and friends of the victims are in a state of grief.