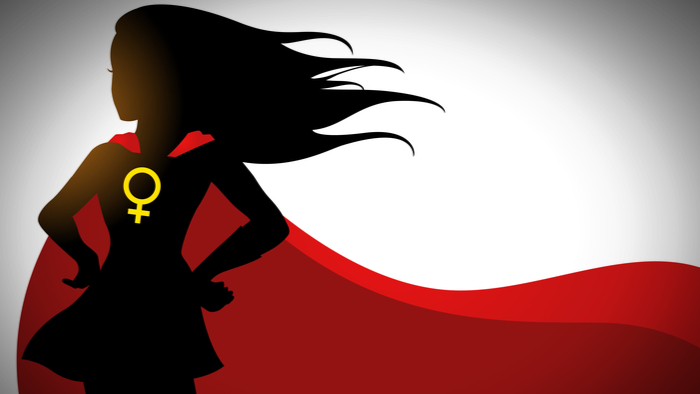 Women leaders to deliberate on strengthening women's participation at workplace under BIMTECH's RAINBOW initiative
Under its project RAINBOW (Realizing Aspirations, Interests and Brilliance of young Women), BIMTECH is going to host a virtual panel talk on the theme, "Women at Work: Status Quo and Way Forward" to brainstorm on new solutions, new structures, and new leadership skills that are required for a woman to lead the way to shape a more equitable future, in the context of rising uncertainties and the threat of Covid-19.
This Panel talk, scheduled for 9th April (Friday) at 3.30 PM, will be a learning experience, bringing together corporate experts, HR practitioners and academicians for a powerful discussions exploring leadership, professional skill development and actionable strategies aimed to strengthen women's participation and leadership in work life, said the Institute.
The webinar is meant for academicians, educators, policymakers, practitioners, budding HR managers and students to listen and discuss the recent ideas, concerns, solutions and innovations concerning the present status of women at work and future challenges and trends for women in work life.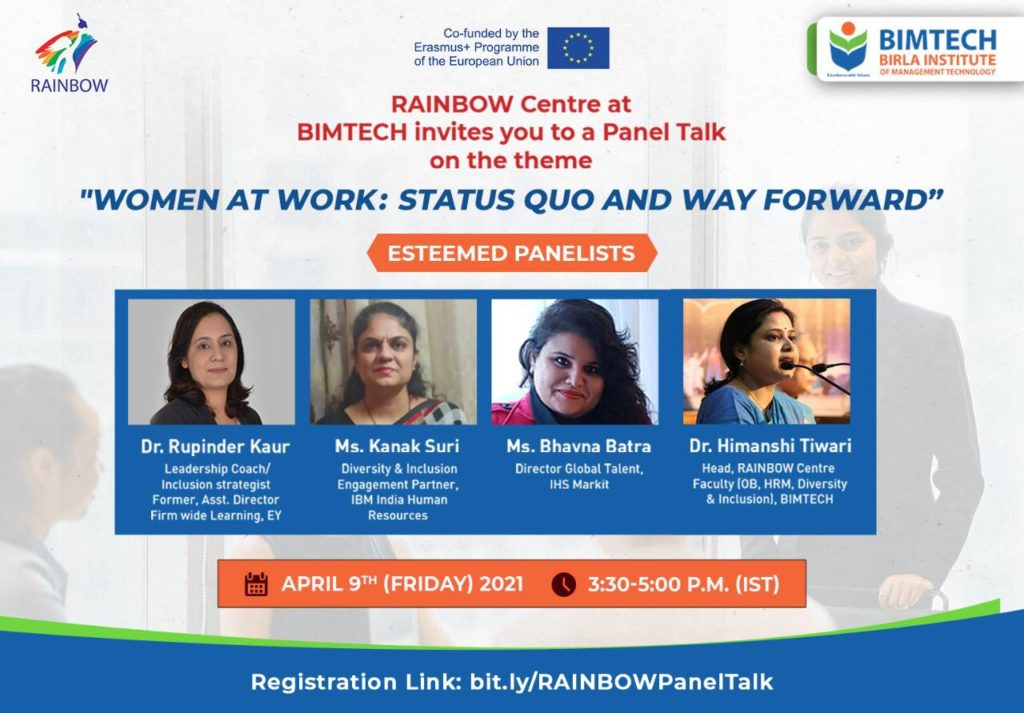 Eminent women leaders including – Dr. Rupinder Kaur, Leadership Coach \ Inclusion Strategist, Former Asst. Director, Firm wide learning, EY; Kanak Suri, Diversity and inclusion, IBM India Human Resources; Bhavna Batra, Director Global Talent, IHS Markit; Dr. Himanshi Tiwari, Head, RAINBOW Centre, Faculty (OB, HRM, Diversity & Inclusion) at BIMTECH – will be sharing their insights on:
Unique challenges of women to choose, join and continue their Career

Best practices for navigating the challenge in career advancement

The unique challenges faced by professional women in leadership roles.

How to develop a plan that will improve your leadership skills?

How to overcome common barriers to building a more effective network?

How to create a more diverse and Inclusive workplace?

Are our men ready for an equitable workplace?

How to put D & I in the DNA of the workplaces?

The laws and legislations: Till now; How Far?
Register at: https://zoom.us/webinar/register/WN_E331_cuYSIOIDAbKRS0Axg
About Project RAINBOW:
Women's participation in the labour market is not only an economic issue but also a larger social and an ethical question, which demands a multi-disciplinary approach. Women's economic activity is rooted mainly in socio-cultural, historical, physiological and economic considerations. Hence, looking at women's employment from the labour market point of view alone is not enough. We need to look at this problem with the intentions of introducing a transactional as well as transformational intervention at socio- cultural, political and economic levels. Researchers noted that understanding differences among women is critical to crafting policy and making public investments that meet their needs and expand their choices and opportunities.
Keeping this in mind, BIMTECH envisioned a multi country project involving three Institutes of high repute from EU; FH Joanneum Austria, University of Jyvaskyla Finland and INCOMA Spain along with two well established Indian Universities; NIRMA University Gujarat and SPSU Udaipur with a focus to identify specific issues pertaining to educated women in the way of their career. Out of total 874 proposals submitted to European Union in the year 2018 within category Key Action Area 2: Capacity Building in the field of Higher Education, Project RAINBOW is one of the 147, selected projects, which makes it a success rate of 16.82%.  This is an ambitious project of the Institute focused toward real-time stockholding and making an effort to contribute towards the cause of gender mainstreaming through action research approach. 
It is understood that professional education is considered to be entry pass for starting one's career. We also believe that living in urban setting, provides certain level of opportunities and support services that are very crucial for a young woman to start and continue her career even at that junctures when family and society expects her to play many other roles as well.  But at the same time it is even more surprising to note that there are an alarming number of women who possess professional qualification and are living in urban setting but are not part of active workforce.  
On the other hand, there is a huge pool of women who are involved in petty jobs like household help, agriculture labour etc. in highly unorganised environment owing to poor quality of education and economic necessity. As Project RAINBOW included both the sections as its target group, there are well sort out plans and intentions to cover a broad spectrum to ensure maximum impact and multiplier effect. The project started in November 2018, has completed its first II years and entered in to III year. Having a strong foundation of meticulous planning and backed by dedicated execution, project has completed some of the milestones focused toward real-time stockholding and making an effort to contribute towards the cause of gender mainstreaming through action research approach.