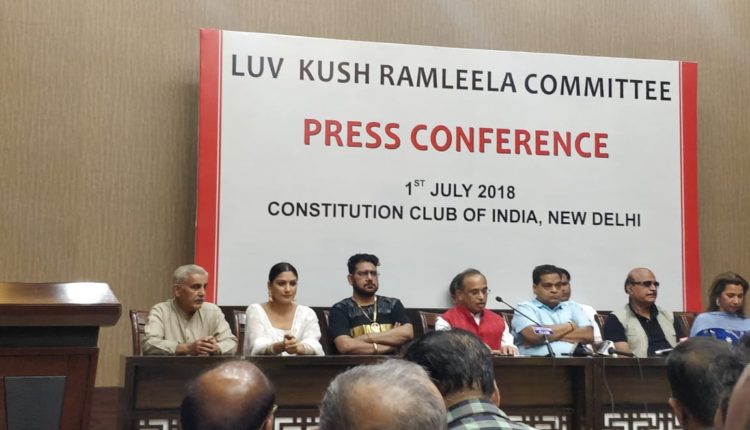 World's Biggest Luv Kush Ramleela to focus on Digital Technology this year!
Prerit Chauhan / Saurabh Kumar
New Delhi: Bollywood's Actor Avtar Gill & Bhojpuri Queen Sambhavna Seth will portray roles in LuvKush Ramleela 2018 organized by LuvKush Ramleela Committee the oldest committees in Delhi that have been organizing Ramleela at Lal Quila Maidan from last 40 years.
LuvKush Ramleela committee has achieved the recognition as the favorite organization in Delhi. This year again the entire team of World's biggest Ramleela is all set to hit the entire religious event in a grand manner.
The preparation of this year's Ramleela is on hype, as the celebs are already witnessed excited for the same.
On Sunday in a press conference, held at Constitution Club of India, in New Delhi witnessed the presence of several recognized Bollywood actors like Avtar Gill, Rupesh Kataria, Shankar Sahni, Ritu Shiv Puri, Payas Pandit, who will be performing this year in Ramleela.
Addressing the Media, Luv Kush Ramleela Committee Chairman Ashok Aggarwal said, "nowadays youngsters are more into social media and digitality, after studying these trends in depth, we decided to add more digital technology. According to him, last year more than nine hundred thousand viewers watched Live Ramleela on Youtube, the highest number of viewers was from European countries and the rating kept on increasing."
Talking about the characters this year, he told media, Avtar Gill will portray Vibhishan, Ritu Shiv Puri will be Sita's mother Sunaina. Shankar Sahni will be Guru Vashisht. This year LuvKush Ramleela will be highlighted for the National and International audience through Television. Well, the 40-year-old LuvKush Ramleela will be showcased from 10th October till 21st October 2018.