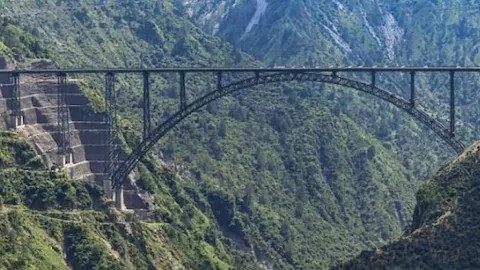 Kashmir, August 17th, 2022: The 'Golden Joint' of Chenab railway bridge was recently launched on August 15th thereby making it the world's highest bridge at an elevation of 360 meters above the riverbed of Chenab.
To commemorate 'Azadi ka Amrit Mahotsav', the bridge was decked with the national flag and inaugurated on Independence Day.
Several people from across the country were present during the unveiling ceremony which saw firecracker show and people celebrating the moment by singing the national anthem.
The bridge is 1315 meters long and when fully completed, it will be 35m higher than the Eiffel Tower in Paris. It comprises 93 deck segments, and nearly Rs1486 crores have been spent on the construction of the bridge.
With tracks over it, Kashmir will be linked to the rest of the country via rail network for the first time after Independence. After facing several challenges, the world's highest railway arch is said to be 98% completed.
Explaining the name 'Golden Joint' Sanjay Gupta, CMD of Konkan Railway said, "From the two ends of the Chenab River valley, the bridge superstructure on the arch was gradually pushed so that it eventually connected at the center of the arch, hence the name 'Golden Joint' was coined by the engineers of this project".
In addition to the Chenab Railway Bridge, 16 additional bridges are also being built on the rough terrain to connect Kashmir with the rest of the country.