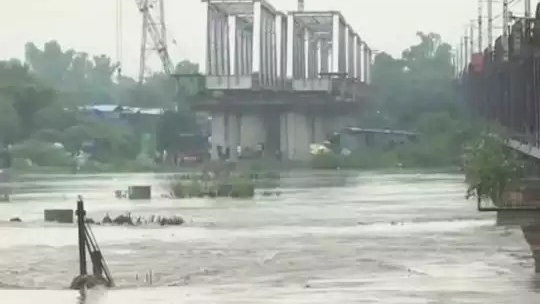 Yamuna water level crosses danger mark in Delhi
Ten News Network
Delhi, August 14th, 2022: The Yamuna river level breached the danger mark on Friday, Aug 12th. The water was flowing above the danger mark at 205.7 meters after large volumes of water were released into the water at the Hathinikund Barrage.

A senior official deployed at the flood control room said that the water level at the old Iron Bridge, which is considered the benchmark for assessing the flood situation in the capital, was at 205.7 meters at 9 pm on Friday, and it was expected to rise further.
The city considers the 204.5-meter water level at the railway bridge as the warning mark, while 205.33m is considered as the danger level.
The reason for this is said to be the heavy rainfalls and currently people have been warned to not enter the Yamuna region and exercise caution. Around 2000 people have been shifted to safer regions in the northeast district.
Low-lying areas near Mayur Vihar Phase I and Akshardham Temple have been flooded due to the overflowing Yamuna River. "The water came gushing in, and I immediately rushed to evacuate my family members and our goats. Some of my belongings got left behind in my house," said a woman.
"Around 37,000 people who live in Yamuna floodplains and low-lying areas in Delhi are considered vulnerable to flooding. Over 5,000 people evacuated from low-lying areas in the floodplains have been shifted to temporary structures like tents and permanent buildings like schools in safer areas," an official from the Sub-divisional Magistrate said