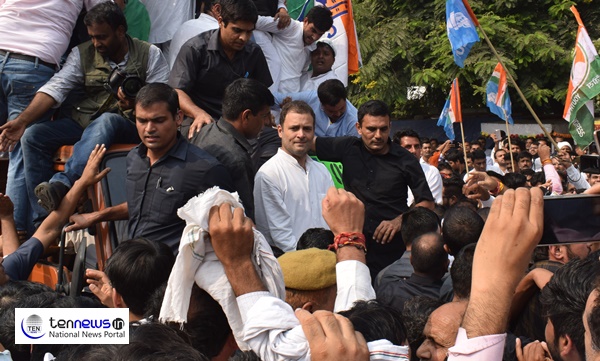 New Delhi: Today, Youth Congress joined Indian National Congress in the protest against Rafale Deal Controversy and Modi's step to skip the cause by changing the officials of the CBI.
In September 2016, India signed an inter-governmental agreement with France, dubbed as "Rafale deal", in which India bought 36 off-the-shelf Dassault Rafale twin-engine fighters for a price estimated to be Rs 58,000 crore or 7.8 billion Euros.
The Modi-led BJP government, however, rowed back from the commitment of the last UPA government to buy 126 Rafales, saying the twin-engined planes would be too expensive and the deal fell through after nearly decade-long negotiations between India and France. There were a lot of hiccups over the cost of the aircrafts. However, faced with the dipping number of fighters and a pressing need to upgrade the Indian Air Force, Prime Minister Narendra Modi intervened and decided to buy 36 "ready-to-fly" fighters instead of trying to acquire technology from Dassault and make it in India.
With several thousand crores invested in the deal, Modi spread the word that fully ready flyjets are imported by India. But the imported flyjets were 40 in number and the rest were prepared in India itself with Modi's business connections.
Pramod Tiwari, a well-known Congress Politician spoke to Ten News and said,
"Modi was always a good leader for BJP but was never worth being a leader of the nation. He is the main face of the biggest scam that has happened in India, and that is the Rafale deal controversy. He proved himself as a useless person for Indian governance."
Jai Prakash Aggarwal was also present on the ground where the protest was conducted and while speaking to Ten News, he said,
"There was nothing called as Modi Wave. People who used to believe in Modi 4 years back are now standing in opposition of the Prime Minister. Whatever he did to skip the controversy can't be resisted. This is the time when Modi has lost trust he had in the minds of the people."
Congress President Rahul Gandhi was also present at the protest and was leading it, sitting in front of the CBI headquarters.