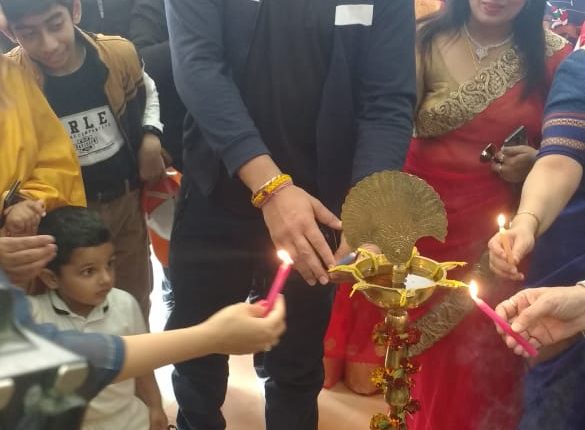 Yuvraj Singh inaugurates Cricket Academy at Delhi Public World School, imparts tips to budding cricketers
Story by Saurabh Kumar Photo And Video By Abhishek Sharma
Greater Noida (24/11/18) : On today's sunny Sunday afternoon, youth icon and renowned cricketer Yuvraj Singh formally inaugurated the Yuvraj Singh Centre of Excellence Cricket Academy at Delhi Public World School, Greater Noida Extension.
On the occasion, everyone, from the teachers, to the students, to the staff was eagerly waiting for him. After his arrival he was welcomed in a traditional manner and then the further program commenced by lighting the lamp followed by rendition of melodious welcome song.
He was felicitated by the esteemed members of the Management and the Principal,  Jyoti Arora. The other eminent guests Aneesh Gautam, Ajay Ratra, Chandra Madan, Ravneet Singh, Vishal Bhatia and Vineet Jain who are renowned cricketers and are an integral force of Yuvraj Singh Centre of Excellence also graced the occasion.
Apart from Cricket academy Singh also formally inaugurated  Spacious Swimming pool and the Multi-Purpose Hall specially made for providing global dimension to the students . After that he went to cricket ground and personally interacted with every students of Cricket Academy and gave them tips to enhance their skills in various sports.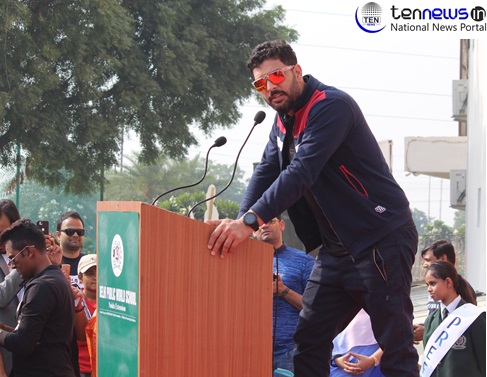 In his address to the budding sports persons, he enlightened the students through his motivational words of wisdom. While interacting with media and responding over a question asked by Ten News reporter he said "For now as I am playing so I won't have much time but once after retirement I will definitely give ample time. But even though I always remain in touch with my coaches and keep them guiding and taking updates of students.  Overall we have very good coaches and the programs are well scheduled."
On this occasion Jyoti Arora Principal of the School also shared her words with Ten News over inauguration of Cricket academy and about collaboratiing with cricketing icon.
She said "It's a great day for us all of us and we were waiting for this moment since very long. In today's time if we want to give a holistic development to the students then I think a sport has a very important role as well as it will enhance physical and mental growth of student with a really good pace. In this initiative we also got a very positive response from parent's side as well."