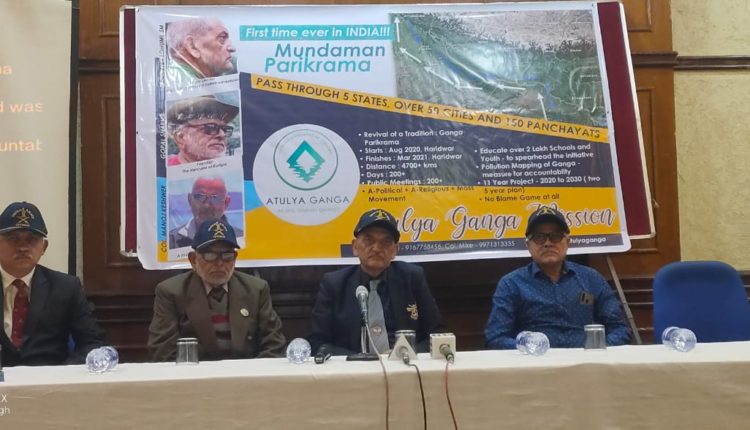 New Delhi (24/01/2020) : To revive mother Ganga and make it nirmal and aviral once again, a team of 100 Army veterans have prepared the blueprints of a gigantic movement through a walk – the 'Mundaman Ganga Parikrama'. They wrote a letter to Prime Minister, Narendra Modi seeking appointment regarding inauguration of their mission by handing over a baton and be a fountainhead in their drive for mass awareness movement. Lt. Col. Hem Lohumi, a Sena Medal recipient is leading the team of Atulya Ganga along with Mr Gopal Sharma and Col. Manoj Keshwar (Mike).

They will meet union minister Nitin Gadkari next week to discuss their audacious plan to circumnavigate river Ganga from Haridwar – Gomukh to Gangasagar and then back to Haridwar, which they are calling India's first ever Mundman Parikrama – Probably the first and only effort of its kind in the world.
They are planning to visit 2 lakh schools situated on the Ganga's banks and organize over 200 public meetings during the Parikrama to motivate the villagers to take the responsibility towards Ganga and its revival – and in turn save their own future. Along the route, they will map the river on pollution levels and a final report will be submitted to Prime Minister's office and concerned ministry once the Parikrama ends. This data will be available year on year – at the same place – so that everyone can check the improvements made – and in turn to fix the accountability of resources being spent by various stake-holders of the project.
Col. Mike, an army veteran and a self-confessed bike lover, will carry the baton offered by Sh. Narendra Modi, on his trans-continental journey on bike, from India Gate to London in which he will sensitize and mobilize Atulya Ganga's initiative to revive Ganga in various countries. The plan for first ever Mundaman Parikrama being held under the aegis of Atulya Ganga is finally set to be a reality in 2020.
Mundman Parikrama is a noble drive to turn dirty Ganga into deity Ganga, and more
challenging than it sounds. The Parikrama has some well-defined strict set of rules which needs to be followed. It is an extremely tough call to circumnavigate Ganga on foot, walking along its banks from its origin in the Himalayas at Gomukh to its merger into the Indian Ocean at Gangasagar. The pedestrian is constrained as per the rules – he is not allowed to cross over from one bank to another except at Gomukh and Gangasagar and can go only a maximum of one yojan or 13 kms away from banks, and must sight Ganga once in 24 hours.
Mundaman Ganga Parikrama seeks to change the future of Ganga, by taking a rigorous path no one has walked before, extended over 4700+ km to be covered in span of 7 months. Starting at Haridwar, this journey will be taken by 100 walkers on a round trip from Gomukh to Gangasagar and then back again from Gangasagar to Gomukh. The entire exercise is expected to last for over 200+ days with 200 scheduled public awareness meetings. The expedition seeks to inculcate a sense of shock and awe in the people vis-à-vis the ecosystem being sustained by one of the largest river basin systems in the world and the devastation that's waiting to happen lest this fragile ecosystem is revived on war-footing.
Speaking about the issue, Gopal Sharma, an Ace Mountaineer and the founder of Atulya Ganga said, "For years, we have been trying to clean Ganga but to no avail – everything is happening except revival of Ganga – efforts have been cosmetic. The problem isn't that there is lack of will or we aren't doing enough, it's that people aren't proactive enough and we are not putting right kind efforts. The population of the entire Gangetic plain need to be sensitised about the importance and fragility of this riverine ecosystem and the impact it had and still has on our economy, lifestyle and livelihood."
"So far we have tried to achieve this by appealing to the religious sanctity of the river. But appealing to faith is one thing, its impact on actions is another. By leveraging this faith with a sense of adventure, we are aiming to appeal to youth – and for them to have the ownership of revival of our life giving resources. We want to make saving Ganga a definite, positive quest and not just another arrow in the dark, alluding solely to abstracts. We have to fix accountability", Sharma added.
Expected to start by August 2020, the team is calling on people across the river belt, whole of
India and the World at large – to participate in the Parikrama walk, organize and participate in
public meetings, mobilize masses along the route, become a part of the awareness campaign, and help the team identify and measure sources of pollution.