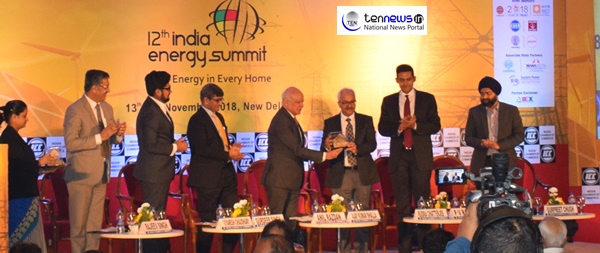 New Delhi: The "12th India Energy Summit 2018" was organized by the Indian Chamber of Commerce (ICC) today in New Delhi. The summit aims to provide a whiteboard to the participants from the energy industry to deliberate and exchange ideas on affordable and accessible power as well as smart integration of renewable energy, development of gas based transportation systems, pipeline grid and city gas distribution system.

The two day conference is conducted to focus on carbon dioxide emission reduction and cleaner uses of coal, a crucial domestic fossil fuel which, if used intelligently, can help secure energy security.
Seen as the one of country's most comprehensive and well-represented energy events –the 12th edition of the ICC's flagship initiative is being organised on the theme of "Energy for All—Clean Energy in Every home" for this year.
The conference was graced by many principle secretaries of participating states, industrialists and global energy experts from GIZ, ADB, India Smart Grid Forum, PGCIL –amongst others, who will delve deep into pioneering energy schemes such as "Saubhagya" and deliberate on issues that areplaguing the sector as well as on the development of Gas Trading Hub –on central pricing point for natural gas during the sessions.
Eminent stalwarts of the sector such as Ajay Kr. Bhalla, IAS, Secretary, Ministry of Power, GOT and Minister Saurabh Patel also graced the occasion.
While addressing the event, Rudra Chatterjee, President, ICC said, "Energy is pivotal to steer the engine of growth for any nation and sustainable access to energy is indispensable to national and global progress. Sustainable energy holds in itself the key to transforms lives, nations and the world economy and hence becomes central to almost every major challenge and opportunity encountered by the world today in terms of security, climate change, agricultural production, employment and so on. However, the production of useable energy has also been responsible for 60% of the global greenhouse gas emissions."
The United Nations' SDGs, Goal 7 takes into account ensuring the access to affordable, reliable, and modern energy services by 2030. India is expected to be one of the major contributors in meeting up the global energy demand.
The conventional means for supplying energy to the huge population of India has been successful but inadequate. As of 2018, although all the villages in India have been electrified owing to the facilitative policies by Government of India, millions still have lack to electricity.
To maintain the steady flow of energy access, and also satiating the SDG7, modern renewable energy based decentralized systems should be given emphasis. At this juncture, proper policy initiatives around renewable energy can help deal with this challenge and achieve the objective of "clean energy in every home".