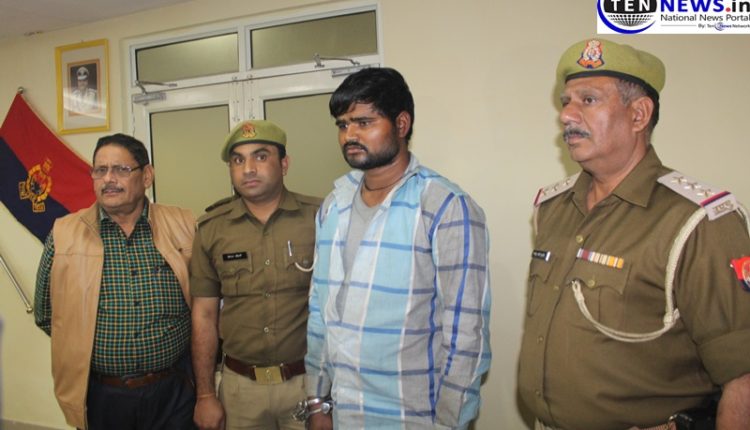 25 thousand rewarded Bawariya Gang member involved in Rs 50 lakh Bank loot incident arrested by Ecotech 1 Police
Saurabh Kumar
Greater Noida (21/2/2019) : 

After a long chase, Noida Police had arrested third criminal from very notorious Bawariya Gang along with his wife. The arrested accused was involved in murder and loot happened in Gonda bank loot incident. The arrested accused is also carrying a reward of 25 thousand on him under two different Police stations.
Police arrested the accused from Eastern Peripheral Expressway near Amarpur village over a tip of Police informer on 21st February. Police recovered a huge amount of Jewellery that is 8 kg of silver ornaments and 40 Gram of gold ornaments looted by the gang during various loot incidents, one country made gun .315 bore, live cartridges and a YAMAHA FZ motorcycle.
Apart from this, three bundles of 50 rupees notes amounting a total of 15,000. Bundles also have bank slip on them which was looted during 50 lakh loot incident on October 10, 2017, from Allahabad Bank in Gonda. And 10,000 Rs were also recovered which was looted in a similar kind of bank loot during which 7 lakh rupees were looted from Bank of Baroda in Pratapgarh district.
SP Vineet Jaiswal told that "It's a great Job done by Ecotech 1 police team as the arrested accused is a very notorious criminal. In recent past he remained successful in escaping unhurt during an encounter with Kanpur police. Since then he is absconding and also has a reward on him by Kanpur police and Noida Police."
Further, he added that "with this arrest, police had unearthed 5 different loot incidents that are registered under different police stations in Uttar Pradesh. During interrogation, he also revealed many names of his gang members that will help us in breaking the whole nexus of this gang".