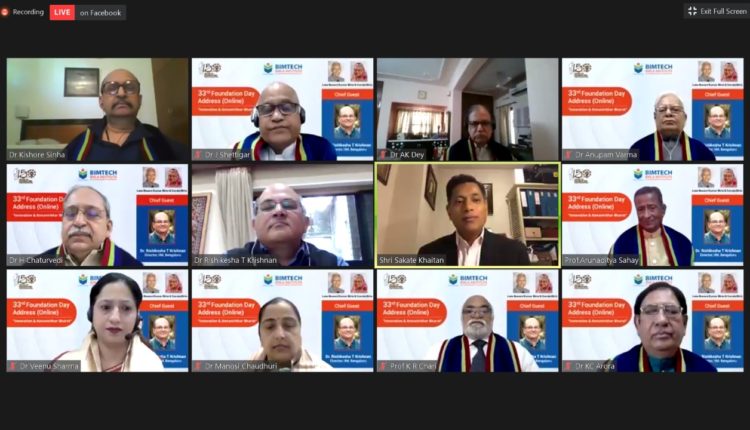 33RD FOUNDATION DAY VIRTUAL CELEBRATION AT BIMTECH
Ten News Network
October 2, 2020: BIMTECH, Greater Noida celebrated the day they laid their foundation back in 1988, by their founders Syt Basant Kumar Birla and Smt Sarala Birla. The foundation day is celebrated on the birth anniversary of Mahatma Gandhi because of the founder's close association with the Indian Independence Movement and its leaders allowed him to absorb the spirit of those times. So, the philosophies of Lt. B.K. Birla resonate with that of Mahatma Gandhi.
Traditions and celebrations wait for none. This year started with a lot of turmoil, with people adjusting to the new norms; management students and faculties struggling to pave their way through, the 33rd Foundation Day at BIMTECH Greater Noida on October 2, 2020 was a breeze of fresh air.
This momentous day at BIMTECH witnessed the gracious presence of dignitaries' foundation day guest Dr Rishikesha T Krishnan, Director, IIM Bengaluru a noted author and influential thinker. Dr Harivansh Chaturvedi, Director, BIMTECH. Dr A.K Dey, Chairperson CMCD. Students and parents, virtually yet enthusiastically took part in the traditions of BIMTECH.
The event kickstarted with Mahatma Gandhi's favourite bhajan, then as the tradition goes everyone was welcomed with a speech by Dr Harivansh Chaturvedi, Director, BIMTECH. He explained the importance of Foundation Day and talked about how Bapu always preached empathy. The respected Chief Guest Dr Rishikesha T Krishnan paid his homage to our beloved founders Late Syt Basant Kumar Birla and Smt Sarala Birla. The main theme of his speech was Innovation and Atmanirbhar Bharat, he talked about innovation in terms of the Indian Motorcycle Industry. He explained the importance of innovation in the context of the mobile phone industry, he also touched upon the topic of innovation in the healthcare industry by Dr Devi Shetty. "If Indian companies have to be self-reliant by building new idea velocity, enhance the proportion of ideas that get converted successfully" said Dr Krishnan. He answered a few questions by the students on India's journey to self-reliance and reverse globalisation.
This was followed by the felicitation ceremony of the prestigious Basant Kumar Birla Distinguished Scholar Award, 2019 which were awarded to Dr Shaphali Gupta, MICA; Dr Arpan Kar, IIT Delhi and Dr Ramendra Singh, IIM Calcutta. All the awardees acknowledged the role of education, expressed gratitude to their family and mentors, and emphasised on the Institutions being researchers and not just teaching shops. "I am blessed to be part of the education fraternity and dedicate this award to those who motivated me through my journey as a researcher" said Dr Gupta.
Best Research Award 2019 and Dr Jagdish N Sheth Best Thesis Award was given to Dr Subhanjan Sengupta, The Best Teacher Award went to Dr Amrendra Pandey. The backbone of the Institution, the faculty and staff were also felicitated for successfully completing a decade at this Institution.
The most awaited Annual Activity Report was released, and presented by Dr KC Arora, Registrar, BIMTECH. Shodhgyaan, the Institute's in-house research journal was also presented. The institution successfully launched its Centre for Online Studies (COOLS), which was presented by Dr Sanjiva Shankar Dubey, Chairperson, Centre for Online Studies. COOLS has partnered with a leading EdTech platform UPGRAD, through which BIMTECH will foray into the field of online education and offer AICTE Approved Two Year PGDM Program, for all the off-campus learners. The course will commence from January 1, 2021.
The event was concluded by Dr Anupam Varma, Deputy Director, BIMTECH. He thanked Dr Rishikesha Krishnan, for gracing the occasion with his presence and sharing his words of wisdom. "We are today marking the 33rd year of our journey to success, it has been a tumultuous journey considering our achievements and growth we can look back with satisfaction" said Dr Varma. He applauded every stake holder for stepping up and making the transition from offline to online learning a tremendous success. He also congratulated the research scholars for the launch of 'Shodhgyaan' where, researchers will have the opportunity to publish articles and research papers.
The virtual celebration of the Foundation Day ended on a very positive note, all the newcomers got insights about the institution and its glorious foundation and left them eagerly waiting to continue the rest of their journey at the campus.
Quotations from the book:
"8 Seps To Innovation Going from Jugaad To Excellence" by Dr Rishikesha Krishnan
"Where does innovation begin? When we think of innovation the first thing that comes to mind is creativity. In fact, it is not uncommon for people to refer to these two terms interchangeable "creativity and innovation". It is as though they are inextricably linked since many innovation programmes begin and end with creativity exercises or idea brainstorms. Lots of ideas get generated and everyone goes home thinking, "I did some innovation today". We believe this is a very limited notion of what innovation is all about".
2. "Innovation begins with curiosity, not creativity. This doesn't mean that creativity is not important, but the way you identify a challenge is perhaps even more important than how you address the problem it throws back, and solve it. this factor has significant implications for systematic innovation because as an organisation we need to first check "What are we curious about?"
3. Three myths of innovation:
• innovation is creativity
• innovation is a smooth linear process
• innovation is risk-taking
On the contrary, Innovation begins with curiosity; it is iterative and an outcome of a series of experiments; and effective innovation involves risk-taking, assessment and mitigation.
4. Three characteristics of an effective innovation review-
First, it is a forum where decisions regarding which ideas should be developed further, and which ones should be put aside are taken; second, an innovation review influences resource allocation by changing the priority of the projects; third, an innovation review checks the scope of the idea and changes it if appropriate."
5. "One of the by-products of the optimistic bias is the persistence exhibited by innovators"
6. "Most of us are not Edisons. However, this book has shown that to build an innovation engine you don't need to be one. You can do it too. "
7. "Many consumer-centric businesses in India have realised the importance of immersive research…. this has resulted in community-specific offerings."
8. "An important point to note is that organisations don't start innovation programmes to become innovative. All organisations are innovative-only the degree, scope and most importantly, the way the innovation is managed vary. "
9. "When P&G opened the idea funnel for external partnerships right from the front-end, it increased the capacity of the innovation engine manifold. Suddenly, there were more people batting and creating partnerships, some hitting fours and sixes."
10. "We believe that after the idea pipeline and idea velocity, improving the batting average is the third most important goal for managing idea funnel. We have identified three goals in managing the idea funnel. One, building and sustaining the idea pipeline; two, improving idea velocity; and three, improving the batting average. "