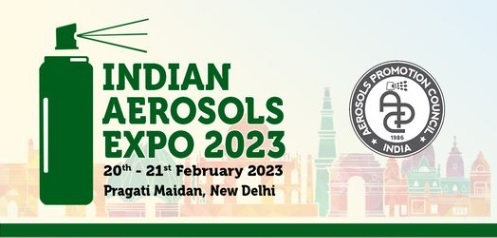 '5TH INDIAN AEROSOLS EXPO 2023' TO BE HELD FROM 20 TO 21 FEB AT PRAGATI MAIDAN, DELHI INDIA

The 5th edition of India Aerosols Expo – India's only trade show dedicated to the Aerosol spray industry – shall be held from 20th to 21st Feb 2023 at Hall 2, Pragati Maidan, Delhi. Held every two years, IAE is the only mainstream platform in India showcasing products, technologies and machinery related to aerosol end-products as well as intermediates. The domestic aerosol market is currently valued at approx. USD 600 million and likely to reach USD 1.3 billion by 2030.
A niche expo that offers personalized interaction with industry players for B2B deals and joint ventures, IAE 2023 shall witness participation by a large number of Indian and International companies displaying Personal Care, Auto Care, Home Care Spray Products, Paint Sprays, Industrial Lubricants, Cleaners and Coating Sprays.
Covering the entire value chain of the Aerosol Industry, IAE 2023 puts suppliers of Can, Valves, Closures, Chemicals & Perfumery, Propellants, Machinery and Packaging Materials and services in direct contact with the leading Aerosol product manufacturers of India. IAE 2023 is expected to attract senior-level buying delegations from Pharmaceutical, Personal Care, Home Care, Auto Care, Paint & Chemical Industries as well as many other sectors for exploring packaging solutions or sourcing private label aerosols from exhibitors.
Says Sanjay Malhotra, Chairman, IAE Organizing Committee, "International aerosol brands keen to penetrate the Indian markets eagerly await this unique expo in order to forge bonds for joint ventures, marketing alliances and/or seeking partners for contract manufacturing in India."
The Expo will also include seminars and conferences on the sidelines deliberating on the recent global and Indian trends, technical panels for enhancing productivity and technological innovations driving future growth. More information at www.iae2023.com or contact Mr Tapan Soni on response.apcindia@gmail.com.