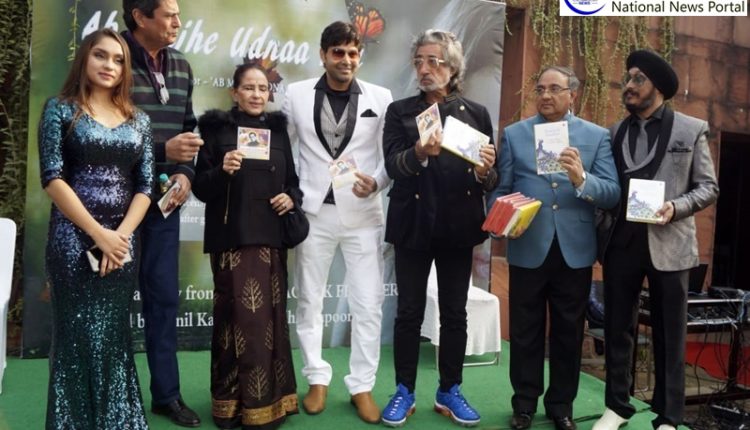 After the bestseller "The Peacock Feather", Author Sunil Kapoor launches his poetic book "Punam Ka Chaand" in Delhi
Vishal Malhotra (Photo/Video) By Lokesh Goswami Ten News Delhi :
New Delhi : Sunil Kapoor, a brilliant writer launched his another book after "The Peacock Feather" which maintained the position of bestseller for 4 consecutive weeks.
This time he wrote a book that holds poetries which are all dedicated to his wife Punam Kapoor and the name of the book is "Punam Ka Chaand" itself.

"Punam ka Chaand" is a collection of sixty-one poems and songs-a heartfelt outpouring of the soul. This collection has a wide range of themes including love, heartbreak, philosophy and patriotism.
It has all the ingredients of a poetic extravaganza, where 'Shahiidaane Hindustan' tells the tale of a martyr, 'Khuda Ki Rehmat' enlightens us to trust in God.
Bollywood actors Shakti Kapoor and Kanwaljit Singh along with Manoj Tiwari attended the launching ceremony.

Speaking to Ten News Kanwaljit Singh said that,
"Sunil Kapoor is a wonderful writer. I met him and his brother Sudhir for the first time yesterday and he handed me a copy of his book and asked me to go through the first chapter of it. I was really very touched when I went through his amazingly romantic poem."

Shakti Kapoor when asked about his opinion regarding this book, he said,
"First of all I would like to share that my real name is Sunil Kapoor and I am happy that he invited me to attend such a beautiful ceremony that holds many of the important personalities."

Manoj Tiwari when entered the venue, people surrounded him for taking pictures and when asked by Ten News about his opinion regarding the book written by Sunil, he said,
"Sunil Kapoor constantly had one of his book as a bestseller for 4 consecutive weeks which was titled "The Peacock Feather" and now he came up with this beautiful poetic book "Punam Ka Chaand". I wish him very luck for his career as a writer and expect him to write many more books that people can relate with their lives."