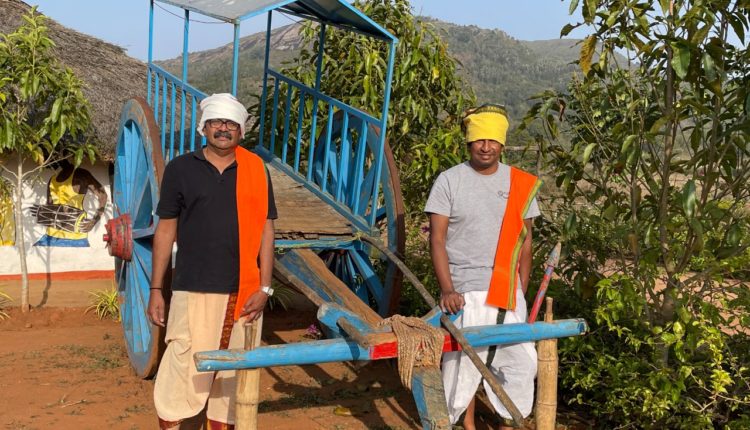 On 13th March, 2022, two passionate travelers – Hemant Soreng and Rajesh Nair, co-founders of Rustik Travel (a Sustainable Experiential Travel company) completed their mega six-month long road trip in a car across the length and breadth of India. They covered all the 28 states along with 5 Union Territories spanning a road distance of over 26,000 km. During this long journey many other road trippers joined along the way for different durations.
While this is not the first time anyone has traveled across India in a car, but the way in which this was done was remarkable.
Firstly, they started off in the midst of a raging pandemic that would put a spanner to their travel plans with frequent Covid waves ravaging the populace.
Secondly, the duration of the road trip was six months long, kept in mind their intent to see and experience India at length and not just pass through. These drivers would've had to sustain that much longer on the road away from home.
Thirdly, they had no money. No sponsors. Coming from the heavy losses of two straight years of the pandemic, these two travel entrepreneurs were bankrupt and deep in debt.
However, the situation was much worse for their less fortunate colleagues from the industry – the drivers, guides, porters and from related craft sectors – artisans, weavers and others, the backbone of the hospitality & tourism sector. Coupled with an ever burning desire to see the country, they didn't think twice and stepped on the throttle, without waiting for any help to follow the elaborate and a thought through itinerary they had created. The idea was to travel across the country spending time in each place highlighting the issue in an effort to revive tourism with the slogan "Dekho Apna Desh".
"And as they say, if you have the intent the Universe conspires to make it happen. The support started pouring in from the Ministry of Tourism, Government of India, Bengaluru, friends, family and people they met along the way," said Soreng.
They were received with a resounding welcome from friends, family and fans in the form of a valedictory ceremony hosted by the Ministry of Tourism, Government of India, Bengaluru, in the same way they had flagged off from the city on 2nd October 2021.
During the ceremony they shared their experiences and stories from the journey.
"The richness of our experience has been astounding. We realised that people are generally good as many of them helped us, hosted us and fed us with some amazing cuisines this country has to offer. We met a lot of intrepid travellers – we met a person who was walking solo from Srinagar to Kanyakumari, a group of young bikers from Kerala who were coming back from Kashmir, two youths who were hitchhiking across the country without any vehicle and little money, two traffic policemen in Tripura who are passionate travelers themselves, an elderly couple who travelled thousands of miles to show their differently abled child a narrow gauge train, and many more such interactions", said Nair.
"Then there was the diverse, wild and yet beautiful terrain we drove on – from Kashmir to Kanyakumari, from Jaisalmer to Bum La Pass in Arunachal Pradesh as we experienced deserts, mountains, forests, the wildlife, lakes, beaches, villages, offbeat places, the stark difference in the time zones along with the ancient past that is present almost every where in this country, that makes us very proud indeed", added Soreng.
"Truly, there's so much in India that one need not travel abroad. What these two have done to travel across India in such braving fatigue & exhaustion,  the dangers of possible road accidents and getting  infected during the pandemic while highlighting the cause is just so amazing. I wish that I would've joined them on this All India Road Trip", said Mr. Mohamed Farouk, Director, Ministry of Tourism, Government of India, Bengaluru, as he felicitated them concluding the ceremony. "We thank them for taking such an enormous initiative and thus inspiring many of us to go out there and travel, and while doing so help  the micro economies of these various destinations".