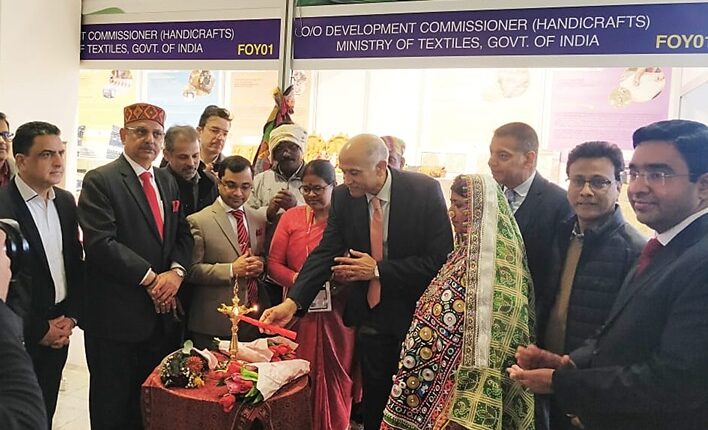 Ambassador of India to Germany inaugurates EPCH India Pavilion at Ambiente 2023 in Frankfurt
New Delhi – 05th February'2023 – The EPCH India Pavilion in Ambiente Fair, 2023 was inaugurated at Frankfurt, Germany in the august presence of His Excellency Harish Parvathaneni, Ambassador of India to Germany; Dr. Amit S. Telang, Consul General at Frankfurt; Stephan Kurzawski, Senior Vice President Consumer Goods & Sales, Messe Frankfurt; Dileep Baid, Vice Chairman-EPCH; Rakesh Kumar, Director General-EPCH; Prince Malik, Rajesh K. Jain, Arshad Mir, Members CoA-EPCH, member exhibitors and master craft persons. The fair is being held from 03rd – 07th February' 2023. India has the largest overseas participation at this fair with around 530 participants followed by China. India's flag is prominently displayed at the entrance signifying the importance of Indian participation in the fair informed by Rakesh Kumar, Director General – EPCH.

He further informed that an interactive session with His Excellency Harish Parvathaneni, Ambassador of India to Germany in the presence of Dr. Amit S. Telang, Consul General at Frankfurt was also organised on 3rd February 2023 on the side-lines of the fair at Frankfurt wherein EPCH's activities and initiatives towards promotion of exports of handicrafts were placed before the Ambassador and sought support to further enhance the trade in the years ahead. The Ambassador gave a patient hearing and assured all support in future business promotions. The Vice Chairman EPCH, Dileep Baid was also present at the interactive session.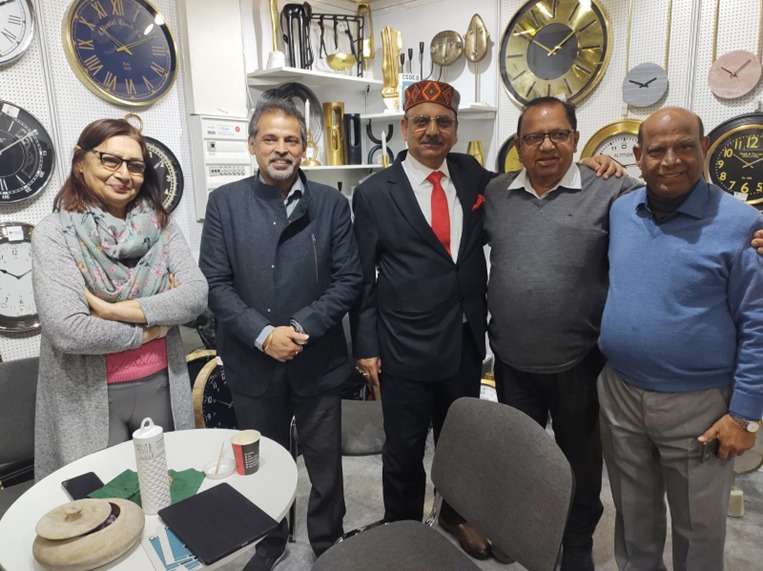 Adding further, Kumar said that EPCH handicrafts pavilion are displaying exquisite Lamps & Lighting, Furniture & Accessories, Candles, Incense, Christmas Decoration, Home Textiles, Rugs & Cushion, Houseware, Paper Products, Shawls, Scarves and other handicrafts items with extensive use of sustainable materials and processes. O/o Development Commissioner [Handicrafts] has also deputed six Master Craftsmen to performing live demonstration of craft skill of Madhubani Painting from Bihar, Hand Block Printed Craft from Rajasthan, Art Metal Ware (Dhokra Craft) from Chhattisgarh, Kangra Painting Craft from Himachal Pradesh, Bari Embroidery from Gujarat and Molela Terracotta from Rajasthan.
Raj Kumar Malhotra, Chairman – EPCH informed that the Council's participation with 55 exporters at the fair is attracting visitors from all across the globe and the live craft demonstration by the artisans of GI tagged handcrafted products is a major attraction for the visitors. The Ambassador of India to Germany in the presence of Consul General at Frankfurt met exhibitors and appreciated their business efforts.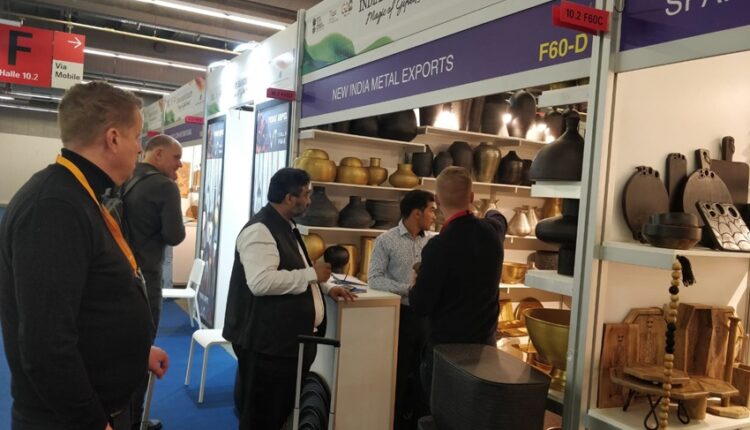 Dileep Baid, Vice Chairman, EPCH said that Ambiente being one of the most important international fairs held in Germany where large number of international buyers visit to source their requirements and with such participation of Indian exporters at the fair increases the possibility of exports growth to the overseas markets. He added that the Indian exporters are adopting the 5 Key Areas – Quality, Durability, Design, Price, and Sustainability – and making efforts to align them with international standards for both domestic and international markets. Baid further said that the cooperation extended by the Indian mission in Germany is commendable, as it greatly facilitates our participation every year.
Ambiente 2023 – international consumer goods fair of Europe is being organised after a gap of two years in parallel with Christmasworld and Creativeworld at Messe Frankfurt with over 4,561 exhibitors from 160 countries to showcase their latest products to the buyers.
EPCH is a nodal agency for promoting exports of handicrafts from the Country to various destinations of the world and projecting India's image abroad as a reliable supplier of high quality handicrafts goods & services. The Handicrafts exports during the year 2021-22 was Rs. 33253.00 Crores (US $ 4459.76 Million) registering a growth of 29.49% in rupee term & 28.90% in dollar terms over previous year. India's handicrafts exports to European Union during 2021-22 has been US$ 987.48 million (an increase of 20% over 2020-21) with exports to Germany stands at USD 243.65 million (an increase of 18% over 2020-21) informed by Mr. Rakesh Kumar, Director General – EPCH.