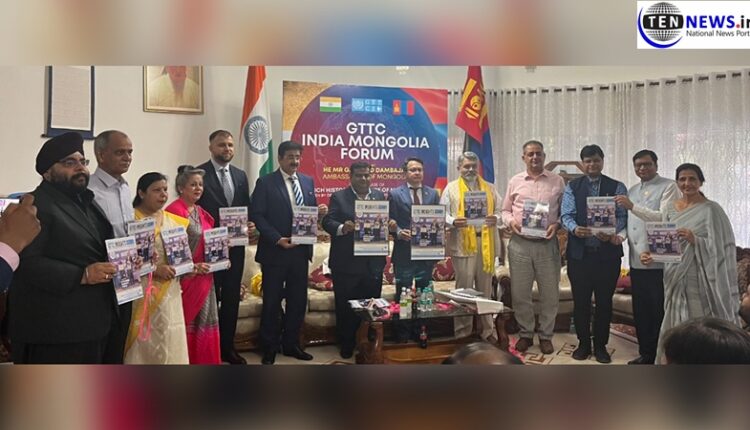 Ambassador of Mongolia launched GTTCI – Mongolia Forum
Ten News Network

New Delhi, 30th May 2023: Mr. Dambajavyn Ganbold, Ambassador of Mongolia while inaugurating GTTC India – Mongolia Forum Saud that he is very happy to inaugurate that forum. He said that objectives of this important forum is very clear. They want to bring India – Mongolia closer, the people of two countries come much more closer based on that to bring opportunities and access to each other in buisness and other activities.
His excellency told TEN NEWS that they would like to start a Mongolian business newspaper in India and also Indian newspaper in Mongolia, it is mutually beneficial for two countries.
Ambassador of Mongolia also released the book 'RIch History and Cultural of Mongolia' writern by Gaurav Gupta. he said that there are lot of books about Mongolia but this book will translated into Hindi and will be distributed to more people which help the Indian people to know about the broader aspects of Mongolia.
On the scholarship offer from Jain University for Mongolia Students, He commented that this kind of educational corporation eik bring our countries closer in future . Mote than the 4,500 years ago the Mongolian students used to come to India to study in Nalanda University , this would be a good Contribution from our of our spiritual neighbourhood.
Dr Gaurav Gupta , President , GTTCI while talking to TEN NEWS said, "We have formed and launched the forum. it aima to promote the trade, tourism and culture between both the countries. it is going to make a milestone in the relationship of India and Mongolia.. He added that nothing can survive if we do not have the good relationship. I believe it should be a mutual thing. There is not only the benefit of one country but both . He also said Ibdia is leading with the G20 presidency Our great leader says VASUDEV KUTUMBKAM.
Mangolia is also our friendly country and dear country to us and everybody want to explore the rich culture of Mongolia."
The program was attended by Diplomats from different countries , Dr Sandep Marwah , Dr K L Ganju , Gajanan Mali and other special invitees.