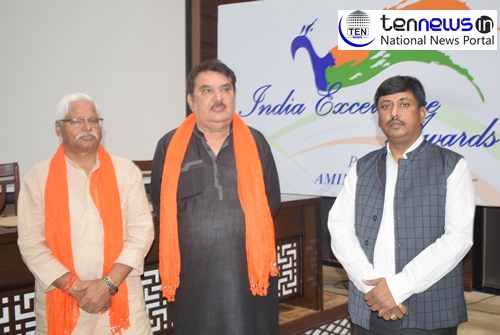 New Delhi: Today at the Constitutional Club of India, AMIM Cancer trust organised an award function, "India Excllence Awards 2018" with various eminent personalities to award the people who save our lives.
These doctors were from various hospitals working for cancer patients' treatments.
Many of the fruitful conversations happened at the ceremony. Talks that were conducted during the function were all about the medical world.
Some of the guests at the ceremony shared lots of information one should be familiar with.
Raza Murad was the face of the ceremony, who praised all the doctors who witnessed the ceremony.
Raza Murad (born 23 August 1950) is an Indian actor working primarily in Hindi films. He has acted in over 250 Bollywood films, and was also got featured in few Bhojpuri and other regional language films, plus many TV series.
Mahabak Mishra, Ex Member of Parliament also attended the award function as a guest of honor.
He discussed many of the things he knew about the medical world. He also praised AMIM Cancer trust for their efforts.
Talking about AMIM Cancer Trust, guests shared facts about AMIM trust which made people think, "How AMIM is leaving traces of humanity everywhere!".
AMIM has contributed in devising a Dengan treatment protocol based on patient's own immune system enhancement. It has also done all lab research and patient treatments from 2005-2008. During this period, 331 patients were given treatment by AMIM trust at a reduced price of Rs 72,000 only.