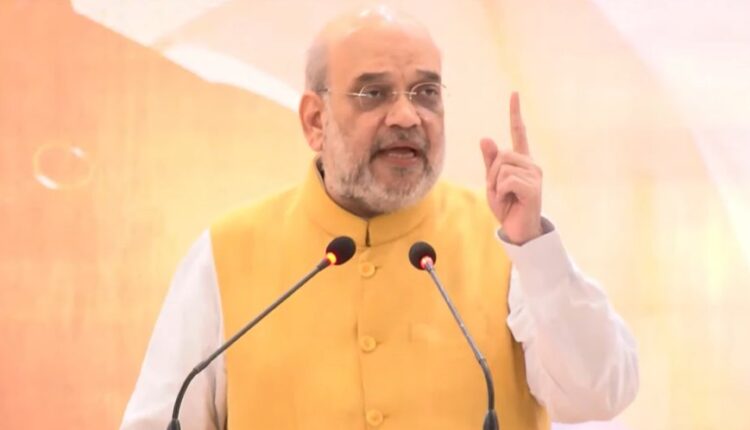 Amit Shah extends best wishes to the countrymen on Hindi Diwas
Ten News Network

New Delhi (14/09/2023): Union Home Minister and Minister of Cooperation Amit Shah has extended his best wishes to the countrymen on the occasion of Hindi Diwas. In his message, the Home Minister said that India has been a country of diverse languages. Hindi unites the diversity of languages in the world's largest democracy. He said that Hindi has been a democratic language. It has honoured different Indian languages and dialects as well as many global languages and adopted their vocabularies, sentences and grammar rules.
Union Home Minister said that the Hindi language played an unprecedented role in uniting the country during the difficult days of independence movement. It instilled a feeling of unity in a country divided into many languages and dialects. Hindi, as a language of communication, played an important role in carrying forward the freedom struggle from East to West and North to South in the country. Shah said that the movements for achieving 'Swaraj' and 'Swabhasha' were going on simultaneously in the country. Considering the important role of Hindi in the freedom movement and after independence, the architects of the Constitution had accepted Hindi as the official language on 14 September 1949.
Home Minister said that original and creative expression of any country is possible only through its own language. Mentioning the renowned litterateur Bharatendu Harishchandra's famous poem "निज भाषा उन्नति अहै, सब उन्नति को मूल", he emphasized that the progress of our language is the basis of all-round progress. Shah said that all our Indian languages and dialects are our cultural heritage, which we have to carry with us. He added that Hindi neither ever has competed and nor will compete with any other Indian language. Only by strengthening all our languages, a strong nation will be created.Home Minister expressed his belief that Hindi will become a medium to empower all the local languages.
Amit Shah said that Indian languages have received due recognition and respect at national and global forums, under the leadership of Prime Minister Narendra Modi. He added that the Department of Official Language of the Ministry of Home Affairs is making continuous efforts, by leveraging modern technology, to enrich the Indian languages to establish them as language of publicadministration, education and scientific use. He said that under the guidance of the Prime Minister, public welfare schemes are being implemented effectively by establishing communication between the government and the public in Indian languages.
Union Home Minister said that the Parliamentary Committee on Official Language was constituted to periodically review the work done in the official language in the country. It was given the responsibility to review the progress made in the use of Hindi in government work across the country and prepare its report and present it to the President. Shah added that he is happy to inform that the 12th volume of this report has been presented to the President. Only 9 volumes of the report were submitted till 2014, but we have submitted 3 volumes in the last 4 years only. Since 2019, Hindi Advisory Committees have been formed in all 59 ministries and their meetings are also being organized regularly. From the point of view of increasing the use of official language in various areas of the country, a total of 528 Town Official Language Implementation Committees (TOLIC) have been formed so far. Even in foreign countries, Town Official Language Implementation Committees have been formed in London, Singapore, Fiji, Dubai and Port-Louis. India has also taken initiatives to promote the use of Hindi language in the United Nations.
Union Home Minister said that a new tradition of organizing 'All India Official Language Conference' has also been started by the Department of Official Language. The first All India Official Language Conference was organized in Banaras on 13-14 November, 2021 and the second conference was organized in Surat on 14 September 2022. This year the third All India Official Language Conference is being organized in Pune. He said that in order to develop the official language according to technology, the Department of Official Language has created a memory-based translation system 'Kanthastha'. Taking a new initiative, the Department of Official Language has also created the dictionary 'Hindi Shabd Sindhu'. This dictionary is being continuously enriched by including words from Indian languages included in the 8th Schedule of the Constitution. The department has also made an 'e-Mahashabdkosh' mobile app comprising a total of 90,000 words and an 'e-Saral' dictionary of about 9,000 sentences.
Union Home Minister said that the principle of language change says "language moves from complexity to simplicity." Shah said that in his opinion, simple and clear words of Hindi should be used in office work. He expressed confidence that with these efforts of the Department of Official Language and by assimilating from all the mother tongues, Hindi, with people's acceptance, will achieve scientific and technological acceptance and will emerge as rich official language. Once again, congratulations to all on the occasion of Hindi Diwas.