Annual Cultural Fest Udghosh held at ITS Engineering College
Saurabh Kumar

23/32018          Saurabh Kumar
The annual cultural fest Udghosh 2018 of ITS Engineering College, Greater Noida has began today. The formal inauguration of the fest was done by lighting the torch and organizing a march past by the students. There after students took pledge under the banner of Udghosh .
Chief Guest for the event was Deepak Gupta who is an eminent poet, speaking at the event he addressed the students in his own poetic style. He made every one laugh hilariously with his poems and jokes over situation of society now a days.
He also paid tributes to through his poems to Bhagat Singh as today is the death anniversary of the great martyrs. He told students that they should take inspiration from him and always should follow their passion.
Speaking at the event Executive Director of ITS, Greater Noida Pankaj Singh said "When we talk of engineering collage people usually have a impression of very technical kind of students and less active in cultural and literature  type of the things but now this trend is changing  and almost all engineering collage have group of students with different tastes".
He also narrated a story of his batch mate during engineering college days and about his passion for cultural activities and revealed that now he is the renowned Bollywood actor Sonu Sood.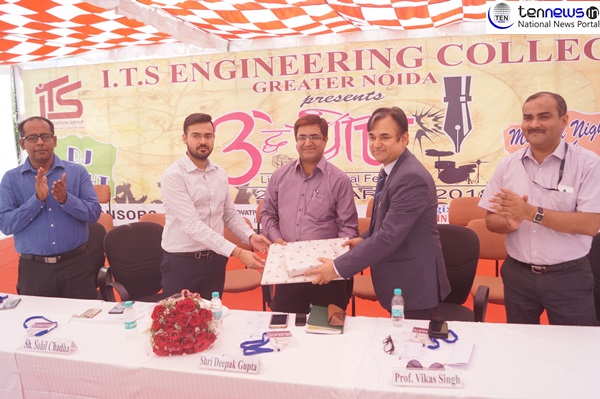 During the program Dean of college Gagan Deep Arora and Sohil Chadha Remained Present on dice.
Chief Guest of the event was felicitated with a memento as a token of gratitude by Pankaj Singh.
The two-day event on the college campus turned out to be a fun affair with activities like wall painting, skit, quiz, Master chef, T-shirt painting, singing and dance competition, rock band performance  with a number of sports event like 100 meter race and many more.
At last Vote of thanks was given by Udhgosh president.